NEW DELHI: The controversy arising out of the Congress Working Committee (CWC) meeting last month over election of a full-time party president is unlikely to die down. The party seems to have been divided into two camps – those who want the Nehru-Gandhi family at the helm and those who demand an active and efficient leadership.
The dissenters, led by 23 senior leaders who wrote a letter to interim president Sonia Gandhi ahead of the CWC meet held on August 24, and the Nehru-Gandhi loyalists appear to be on a collision course.
With attacks and counter-attacks being hurled from both the sides, the controversy may snowball into a major fight within the Congress.
Talking to the timesofindia.com, one of the signatories to the letter warned of a "fight to finish" over the presidency of the party.
Speaking on condition of anonymity, he said, "We wrote a letter to Congress president Sonia Gandhi. We jotted down whatever we felt was right. However, some leaders did not like it. They leaked the letter and tried to humiliate us in public."
The leader said they have been behaving in a decent and sophisticated manner so far but would give a tough fight in the organisational elections. If any of the Nehru-Gandhis would contest for the presidents post, we would also field our own candidate, he said.
"If they have the strength, let them win. But we will try not to let the fight go unchallenged," he said.
Rallying behind Sonia Gandhi and Rahul Gandhi, the CWC criticised the 23 leaders for writing the letter to the Congress chief. Defending the Gandhi leadership, the CWC said the leaders stood up to the BJP government and held it accountable for its "misdeeds".
A couple of days later, Sonia Gandhi made some appointments in the partys office-bearers in both houses of Parliament.
In the Lok Sabha, Kaliabor MP Gaurav Gogoi from Assam was elevated and made the deputy leader of the house while Ludhiana MP Ravneet Singh Bittu from Punjab was appointed as one of the whips.
While Adhir Ranjan Chowdhury is the leader of the Congress in the lower house, K Suresh is the chief whip and Virudhunagar MP Maniackam Tagore from Tamil Nadu is a whip.
A committee comprising these five leaders has been constituted to look after floor management.
Similarly another five-member committee has been formed in the Rajya Sabha.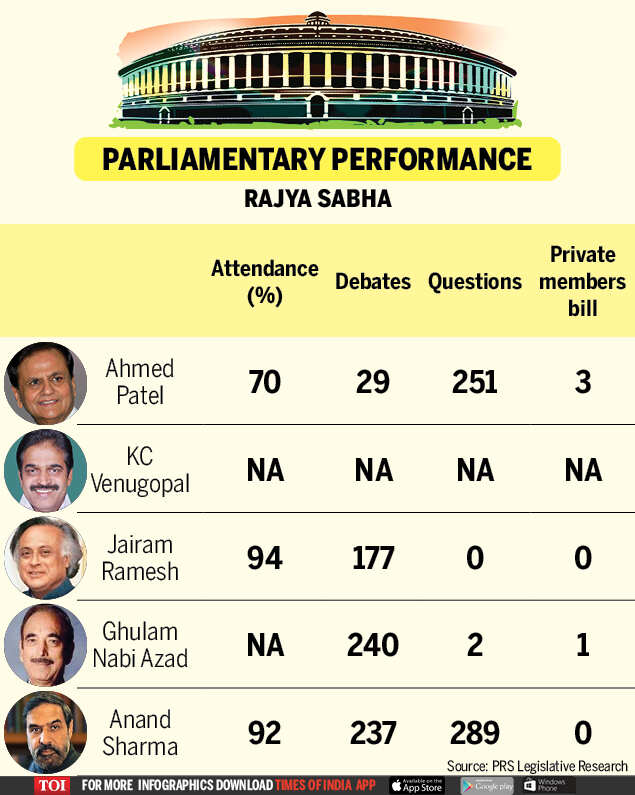 Earlier, leader of the opposition the Rajya Sabha Ghulam Nabi Azad and deputy leader of opposition besides chief whip Bhubaneswar Kalita looked after the floor management. After Kalita quit the party last year, the post had been lying vacant.
Jairam Ramesh has been appointed as the new chief whip in the upper house. Congress treasurer Ahmed Patel and general secretary (organisation) KC Venugopal have been appointed as two additional members in the committee.
These appointments are being viewed as a snub to the dissenters.
For instance, Thiruvananthapuram MP Shashi Tharoor from Kerala and Anandpur Sahib MP Manish Tewari from Punjab are said to have been bypassed in the Lok Sabha.
Similarly, the wings of Ghulam Nabi Azad and Anand Sharma are said to have been clipped with the formation of the committee and inclusion of Ahmed Patel and K Suresh.
However, one of the dissenters said they were not hankering after any post and these appointments did not affect them at all.
"Our ambition is not to wish for party posts. OuRead More – Source