You can almost set your clock to it. A few weeks out from the finals, rivals having a crack at Melbourne over their tackling technique.
"Its Kylie Minogue one year, Dannii Minogue the next year, Taylor Swift the year after. Its a different singer singing the exact same song every year," Storm CEO Dave Donaghy told the Herald.
"Ultimately our players, like every player does across the competition, just deserves a fair go."
Donaghy was going to let it slide, but he has had enough. The final straw was South Sydneys general manager of football Shane Richardson attacking his side over supposed wrestling manoeuvres and alleged preferential treatment on and off the field, including getting away with more with the referees, the match review committee and the judiciary.
Advertisement
"Who invented the crusher tackle, who invented the chicken wing, who invented the rolling pin?" Richardson told Fox Sports.
"We were furious afterwards. It's not in the spirit of the game."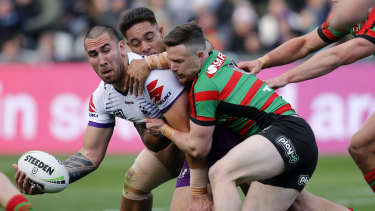 Melbourne powerbrokers concede they were fortunate that Nelson Asofa-Solomona wasnt charged for what appeared to be a crusher tackle against the Rabbitohs, but are adamant the incident was an anomaly. They also feel Richardsons comments are "hypocritical" given Sam Burgess avoided suspension for a sickening hit on Matt Moylan that literally knocked the Sharks star out of the next game.
"To say we practise that is insulting," Donaghy said. "The people who say that have never been to any of our training sessions. Ever.
"That is one tackle in however many have been made over the course of this season.
"If its something were practising were pretty bad at it."
Donaghy hinted that Souths coach Wayne Bennett may have put Richardson up to the comments to take the attention off his own side after last weekends loss.
"Ive got a lot of respect for Shane, but I dont think he believes a word he said," Donaghy continued.
"Theres a puppet master in the background who knows all about deflecting attention elsewhere.
"Weve been playing the same way all year and now all of a sudden theres an issue with our tackling technique."
The war of words will escalate an already intense rivalry between the teams. They played in the opening gaRead More – Source