It might not always look like it on the field, but there is a lot going on inside David Klemmer's head.
Maybe too much.
Klemmer is the first to admit he is often overwhelmed by thoughts of football and life. His emotions, he says, often sensationally bubble over in games.
Corey Parker. MCG. Origin. Anyone?
Advertisement
Klemmer now takes time out to try and stay calm. One thing he loves is the short trip from his new digs in Warners Bay to the Newcastle training base in Mayfield.
"There is no music, no radio, just complete silence,'' Klemmer says. "I think about life, my kids, things that might happen in my life, my reactions to them.
"I'll think about footy, winning a comp, and how I go about winning a comp. I'll also think about how I want to be remembered.''
How do you want to be remembered?
"Someone who was a real competitor; a bloke who always did his best for his teammates,'' Klemmer says. "I want to be the best role model for my kids.''
Klemmer meets The Sun-Herald on a murky morning at Knights HQ after staying up late to decorate the house for his son's second birthday. Little David, or "DJ", has two older brothers, Cooper, six, and Jackson, four.
Klemmer's childhood sweetheart, Chloe, is now keen for a fourth.
"I've told her to give me a couple of weeks to think about it,'' he says with a smile. "I've got a soft side. I'll probably go again.''
Family is a big thing for Klemmer. The boys are always at Knights training. Cooper did his best impersonation of his dad, roughing up Knights forward Aidan Guerra after tackling him to the ground at the end of a training session recently.
Klemmer's own upbringing, however, is not something the big fella is prepared to expand on.
We know he grew up in the south-western Sydney suburb of Fairfield. He attended the famous Westfields Sports High, the powerhouse school that produced Jarryd Hayne, Israel Folau and Harry Kewell.
"I was a ratbag growing up,'' Klemmer says. "I'd go around the streets and throw rocks at houses. I was a little brat. Just really silly stuff.
"I'm glad I had footy. It kept me where I had to be."
That's about as much as Klemmer is prepared to give.
Football has been his family. Which again explains why he rides the highs and lows more than most players.
Canterbury really were the "family club" for Klemmer before he departed last year to take up a whopping five-year deal with the Knights.
Money had nothing to do with it; what he is earning at the Knights is basically what he was earning at the Bulldogs.
It was more to do with the treatment of a few of his mates. He worried about them. He was forever stressing about what would happen to pals James Graham and bestie Aaron Woods.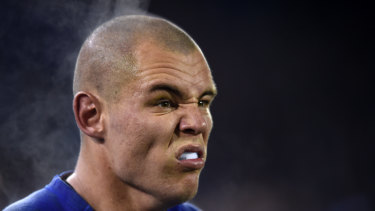 When he first lobbed at the Knights, Klemmer had a peek at the schedule to see when his new club would play against his old side.
"It's in magic round,'' he says. "Had it been at Belmore, I would have needed extra security.
"I have respect for fans; they're a passionate bunch. They probably don't like me, but there's a lot of respect for them.
"I feel like I let the club down. I wanted to win a comp there. I really did. But a lot of things happened there those last 12 to 24 months.
"I had to leave for my wellbeing and my family's wellbeing. It had nothing to do with money. I just became frustrated. I'm a deep thinker. A lot of things were eating me up.
"I hated seeing James Graham leave; Aaron Woods, Moses Mbye, Josh Reynolds.
"I remember sitting in the sheds after our last game last year against Cronulla. I was the last one to leave. All the strappers, everyone had gone. I realised then things had finally taken their toll."
Graham was forced out of the club 12 months before Klemmer. He signed with St George Illawarra – Sunday's opponents – and he started to become emotional as he stood on stage and then Bulldogs chairman Ray Dib revealed how the Englishman asked to take a pay cut so the club could keep Reynolds.
"That's the type of bloke he is, he'd give you the shirt off his back," Klemmer says of Graham. "What he did on a weekly basis was unbelievable. The Dragons are lucky to have him.
"He never gives up. He keeps coming at you. He's so tough in attack and defence. He brought me through and showed me what being a first-grade footballer is all about."
Amazingly, when it became clear Klemmer would not continue his careerRead More – Source