If ever there was a sign the Prime Minister's XI fixture is losing its lustre, this game was it.
Just 1824 people were on hand for the Prime Minister's XI's memorable four-wicket win over international powerhouse South Africa at Manuka Oval on Wednesday.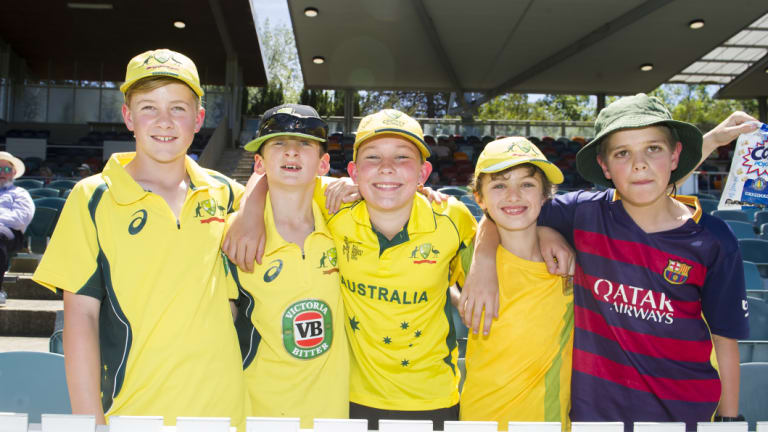 It shows what was once Canberra's jewel in the crown is struggling to find an identity among cricket fans in the midst of the ACT's biggest summer in history.
Only once since 2006 has the Prime Minister's XI crowd figure exceeded 10,000, and shifting the annual fixture to the Twenty20 format over the past two seasons failed to arrest that trend.
Advertisement
The days of an Australian legend coming out of retirement to lead the Prime Minister's XI seem long gone, as are the days the fixture being touted as a shootout between players for higher honours.
But 23-year-old cricket fan Ayden O'Neill, of Ainslie, believes those are the three pillars the fixture must be built around to bring punters back in droves.
"Ive been coming for the last four years and the best year for me was probably last season when they had a Twenty20," O'Neill said.
"Have it when people are coming home after work on a Friday night when families can bring the kids. Id prefer that to a one-dayer.
"[Bringing back a past player to captain] is something I would like to see, it would definitely bring a few people in as well. Its a big yes.
"Id say we need an experienced captain and maybe four decent star players, and then maybe a bit of young talent that can break into the representative teams, in the Prime Minister's XI squad."
The fixture has come under fire for losing its reputation as a genuine launching pad for higher honours – former Australian captain Allan Border has said in the past the fixture was in danger of losing all relevance.
Combine that with the fact Canberra will host two Big Bash League games, WBBL, Sheffield Shield, WNCL and an historic Test match against Sri Lanka on February 1 – all following the Australian women's side's clash with New Zealand – and fans in the capital are spoilt for choice.
O'Neill says an abundance of options on the cricketing front is the reason the crowds have dropped off, adamant he feels no disconnect between himself and Cricket Australia after a review branded the governing body's culture "arrogant".
The review was sparked by the ball tampering saga in Cape Town that saw Steve Smith and David Warner banned for 12 months, while Cam Bancroft was suspended for nine.
"Really, I dont see [aggression] being as a problem as long as there is line between being competitive and going a bit too far," O'Neill said.
"I think in the past, Australia probably has crossed it one or two times, but in general I think arrogance in competition is good."
Caden Helmers is a sports reporter for The Canberra Times