Every time Usman Qadir brought up the prospect of playing cricket for Australia, the idea was quickly shut down by his father Abdul – a Pakistan legend no less.
But Qadir's great Australian dream of playing at the World Twenty20 in 2020 could become a reality if his latest outing is anything to go by.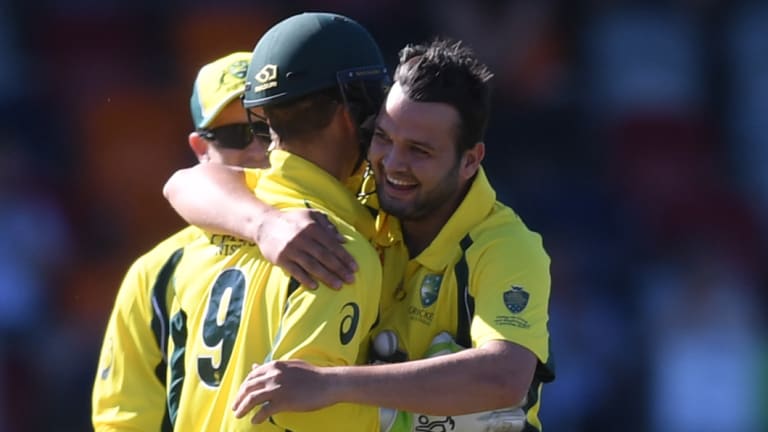 He made the most of his first chance to impress in a Cricket Australia representative side in claiming 3-28 (10) for the Prime Minister's XI to inspire a stunning four-wicket win over South Africa at Manuka Oval on Wednesday.
The leg-spinning son of Pakistani great Abdul Qadir burst onto the scene for Western Australia last month and has finally received his father's blessing to chase a baggy green.
Advertisement
The Proteas fielded a near full-strength side for their lone outing before launching into a one-day series against Australia, the very team Qadir dreams of playing for.
The 25-year-old is a spitting image of his father – on the cricket field at least – bowling stylish leg-spinners with a superb wrong'un in his arsenal.
Qadir grew disillusioned with cricket in Pakistan and a stint in Australia reignited the fire – but getting the tick of approval from his father, a veteran of 171 internationals, was far from easy.
"There is a very big debate whenever I talk about Pakistan things. Id just keep on telling my dad that I want to play for Australia and he keeps telling me no, you have to play for Pakistan," Qadir said.
"For a couple of years I did not get any chance to play in Pakistan, I got named in the teams but I never played, in Twenty20s or one-dayers or whatever, I was always sitting on the bench. When I came here, they give me the opportunity and Im performing. Its a real difference between Pakistan and Australia.
"He just gave me permission and said I have a blessing with you. Whatever you need to do, you can do it, because you are growing up and youre old enough to make your own decision.
"Thats how I finally made my decision last year, that I wanted to play for Australia, so here we go. Im in the line now."
Growing up as the son of a Pakistani legend meant Qadir was once desperate to wear a Pakistan uniform in an international match, but a lack of opportunity left him disheartened.
He spent some time away from cricket before his brother coaxed him into returning for Hawkesbury in Sydney's premier competition in 2016, and he quickly made up his mind: Qadir wants to don a baggy green with the Australian coat of arms emblazoned across the front.
To make it happen Qadir will likely have to follow the path paved by Fawad Ahmed, who has has played a handful of matches for his adopted nation after officials helped to fast track his citizenship application.
Ahmed claimed asylum in Australia in 2010 having fled Pakistan, and now Qadir wants to put his name on the lift of Pakistani tweakers suiting up for Australia.
"Hopefully I will get fast-tracked and my goal is to play for Australia in Twenty20," Qadir said.
"The first thing I want to tell you is to play for Australia is my goal. Whether it be Twenty20 or one-day or Tests, my goal is to play for Australia. Whatever comes first."
Caden Helmers is a sports reporter for The Canberra Times