Donald Trump has said it is "a scary time for young men in America" because they may be presumed guilty if accused of sexual assault.
The US president was speaking in response to the accusations against Brett Kavanaugh, his nominee for the Supreme Court.
A woman has accused him of sexually assaulting her when they were at school in 1982.
Christine Blasey Ford told her story at a dramatic senate judiciary committee hearing last week, with Justice Kavanaugh calling the claims a "national disgrace" as millions watched live on TV.
Mr Trump told reporters at the White House: "I say that it's a very scary time for young men in America when you can be guilty of something that you may not be guilty of."
He added: "My whole life, I've heard you're innocent until proven guilty. But now, you're guilty until proven innocent. That is a very, very difficult standard."
The president ordered an FBI investigation into the claims after committee member Jeff Flake requested one, and it has just a few days left to complete its work and report back.
:: Brett Kavanaugh 'involved in bar brawl after UB40 gig'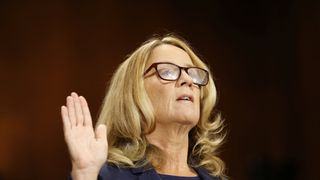 Agents have already interviewed Justice Kavanaugh's friend, Mark Judge, according to his lawyer. Mr Judge was an alleged witness to the alleged sexual assault.
Deborah Ramirez, who said Mr Kavanaugh exposed himself to her at a party, is also understood to have now been interviewed.
The US president said he believed his Supreme Court nominee would eventually be "positively voted on".
"What's happening here has much more to do than even the appointment of a Supreme Court justice. It really does," said Mr Trump.
More from Brett Kavanaugh
"You could be somebody that was perfect your entire life, and somebody could accuse you of something. It doesn't necessarily have to be a woman."
The appointment of Brett Kavanaugh, a conservative, is significant because he would have a job for life on America's highest court, potentially tipping the balance on controversial issues such as abortion law and gun control.