Donald Trump says he is looking forward to his next meeting with Vladimir Putin, despite his performance at their first summit sparking outrage on both sides of the political divide in Washington.
The US president was accused of "treasonous" behaviour during a news conference with his Russian counterpart in Finland, in which he contradicted his own intelligence officials over alleged meddling by Moscow in the election that put him in the White House.
He later backtracked in a television interview, insisting he had "tremendous faith" in national intelligence director Dan Coats and that he would "accept" his conclusions on Russian involvement.
But his pliable manner at the Helsinki summit still angered many US politicians, including Paul Ryan – the top Republican in the House of Representatives – and Senate foreign relations chairman Bob Corker.
Despite his attempt at damage control over the reaction in Washington, Mr Trump has continued to insist that his meeting with Mr Putin was something to be proud of and has now said that he is anticipating another summit.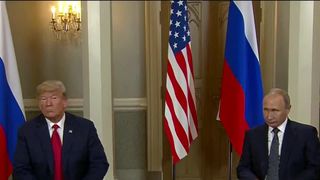 "The summit with Russia was a great success, except with the real enemy of the people, the Fake News Media," he posted on Twitter.
"I look forward to our second meeting so that we can start implementing some of the many things discussed, including stopping terrorism, security for Israel, nuclear proliferation, cyber attacks, trade, Ukraine, Middle East peace, North Korea and more.
"There are many answers, some easy and some hard, to these problems…but they can ALL be solved!"
He then posted a video from Fox News showcasing previous occasions on which he had acknowledged that Russia had meddled in the election.
It all formed part of yet another Twitter outburst from the president, who also took aim at the European Union for imposing a record fine on Google for abusing its control of the Android operating system.
More from Donald Trump
Mr Trump – who told Theresa May to "sue the EU" rather than negotiate over Brexit – tweeted that the bloc had "truly have taken advantage of the US, but not for long".
During his European trip last week, Mr Trump threatened the unity and credibility of NATO and the EU, before moving onto Britain, where he was met with widespread protests.