Facebook row tech firm Cambridge Analytica has suspended its CEO Alexander Nix in the wake of a series of allegations.
Facebook is currently facing investigations by authorities in the UK, EU, and the US, over a reported data breach that impacted more than 50 million people.
Data analytics firm Cambridge Analytica, which was hired by Donald Trump's campaign team, is accused of using millions of Facebook profiles without authorisation to predict and influence the US election.
The board of Cambridge Analytica says it has suspended Mr Nix pending a full independent investigation of his actions.
The suspension is effective immediately, according to the company's website.
Comments Mr Nix made to an undercover reporter for Britain's Channel 4 News and other allegations of wrongdoing were cited as reasons for the action by the board.
The firm said Mr Nix's statements "do not represent the values or operations of the firm and his suspension reflects the seriousness with which we view the violation".
Meanwhile, Facebook's founder and CEO Mark Zuckerberg has been sent a formal request to appear before MPs and answer questions regarding the growing scandal about user data.
"Your officials' answers have consistently understated this risk, and have been misleading to the Committee," Damian Collins MP, the chair of the culture committee, informed Mr Zuckerberg.
"It is now time to hear from a senior Facebook executive with the sufficient authority to give an accurate account of this catastrophic failure of process," he said.
Facebook held an open meeting for all employees following the allegations, chaired by the company's deputy general counsel, Paul Grewal rather than Mr Zuckerberg.
The data privacy crisis facing Facebook has seen its shares and those in the wider US social media sector take a hit.
Facebook's own market value had fallen by more than $60bn since the story broke though the pace of losses eased in Tuesday's trading.
Art Hogan, chief market strategist at US investment bank B Riley FBR, told Sky's Ian King Live that investors were worried about impact on user numbers and ad revenues in the longer term.
He said they saw a "smoking gun" and were looking to "shoot first and ask questions later".
Facebook was down 2.6% at the close in New York.
The Information Commissioner, Elizabeth Denham, has sought an urgent court warrant to search the premises of Cambridge Analytica in London for evidence of any breaches of the Data Protection Act.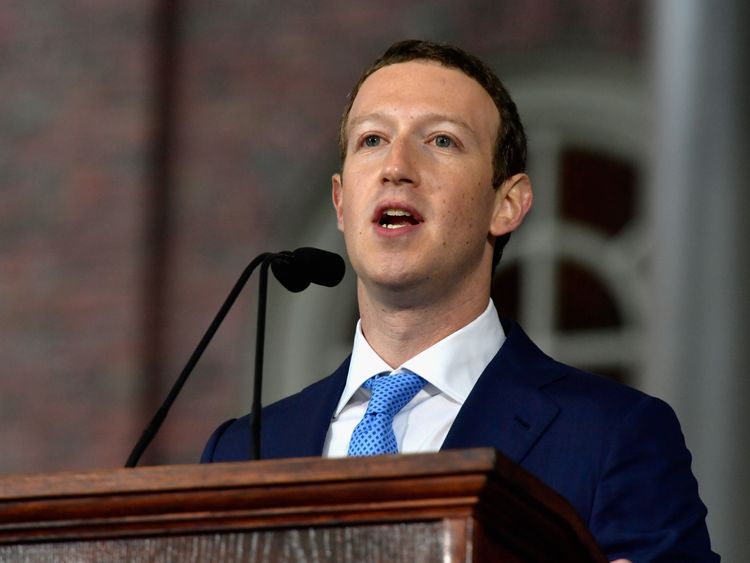 Facebook suspended Cambridge Analytica when reports emerged that the data company did not delete information about Facebook users that had been inappropriately shared.
According to Facebook, academic Aleksandr Kogan, separately from his work as a University of Cambridge professor, made a personality app that gathered data which he then sold on to third parties.
Cambridge Analytica provided data on the thoughts of American voters to Mr Trump's political campaign strategists and played a role in the Brexit referendum.
In secretly recorded conversations, Mr Nix claimed he had met Trump "many times", according to The Guardian.
"We did all the research, all the data, all the analytics, all the targeting. We ran all the digital campaign, the digital campaign, the television campaign and our data informed all the strategy," Mr Nix told undercover reporters working for Channel 4 News.
The newspaper also reports that senior managers appeared to suggest that in their work for American clients there was planned division of work between official campaigns and unaffiliated "political action groups".
If true, this could be considered coordination, which is not allowed under US election law.
More from Science & Tech
Cambridge Analytica deny this and say it had a firewall policy in place which was signed by all staff and strictly enforced.
Mr Nix also was filmed boasting about using "Ukrainian girls" who are "very beautiful" to entrap the political opponents of clients.