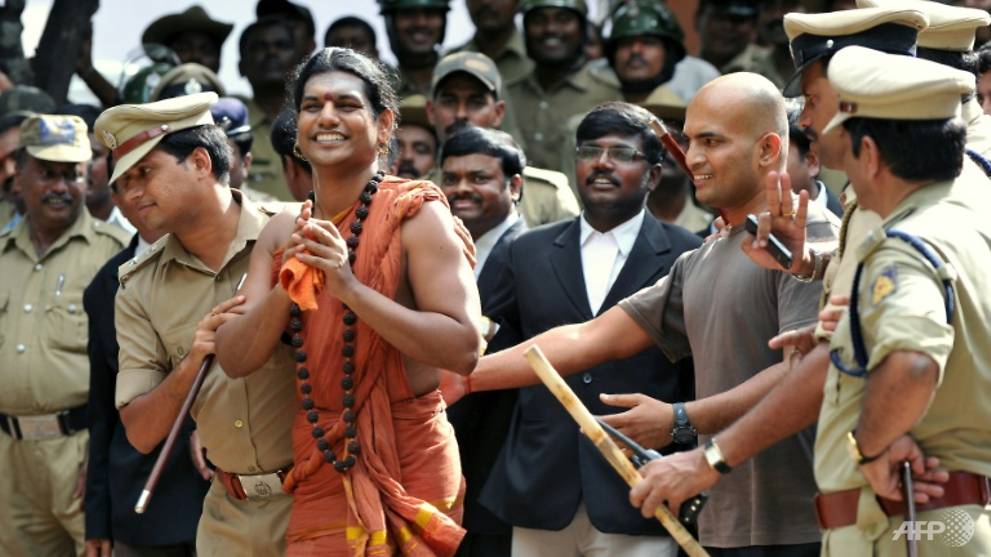 NEW DELHI: Indian border officials and embassies have issued an alert for a fugitive guru accused of rape, the government said, days after the holy man announced the creation of his own "cosmic" country.
Swami Nithyananda – one of many self-styled Indian "godmen" with thousands of followers and a chequered past – is wanted by police for alleged rape, sexual abuse, and abduction of children.
Advertisement
Advertisement
Earlier this week, he announced online that he has created his own new country – reportedly off Ecuador's coast – complete with cabinet, golden passports, and even a department of homeland security.
Asked about the guru's whereabouts on Friday (Dec 6), the foreign ministry said Nithyananda's passport had been cancelled and that India had issued an alert for "all our missions and posts".
Local governments had also been put on alert, spokesman Raveesh Kumar told reporters in New Delhi, adding: "We have never said he's in Ecuador."
Confusion reigns about the location of the new country, known as Kailaasa, which the 41-year-old claimed was the "biggest Hindu nation without boundaries".
Advertisement
Advertisement
Indian media reports initially said it was off the Ecuadorean coast, but in a rambling YouTube video the holy man said it exists "in the cosmos".
The Kailaasa website details different government departments and agencies in his make-believe state, offering "free food" and promising a "strong diplomatic network" to work with other countries.
Previously, Nithyananda has claimed he would make cows speak Sanskrit and Tamil and that he succeeded in delaying sunset by 40 minutes.
The website says he is "regarded & worshipped as the Living Avatar (incarnation) of super-consciousness bRead More – Source