The daughter of league Immortal Bob Fulton has savaged Trent Barrett for taking credit for Manlys revival, declaring "his arrogance and ego nearly tore the place apart."
The Sea Eagles parted company with Barrett a fortnight ago, finally getting him off the books after more than six months of gardening leave. Barrett hasnt coached the side since Manly powerbrokers appointed Des Hasler last summer, but he has continued to be paid after giving his notice last June.
The Silvertails narrowly avoided the wooden spoon last season, finishing above only arch-rivals Parramatta in Barretts final season at the helm. The teams fortunes have improved dramatically since Haslers return, to the point where bookmakers have installed him as the favourite to take out the Dally M Coach of the Year award.
In an interview with News Corp, Barrett claimed he contributed to the teams current success, pointing to his recruitment of players including Curtis Sironen, Moses Suli and the development of Tom Trbojevic.
Advertisement
"Id actually like to think I left them well educated," Barrett said. "A few of the boys I got there like Siro (Sironen) were coming out of reserve grade … Ive really loved seeing all these guys kick on this year."
The comments riled Kristie Fulton, a long-time Sea Eagles staffer. She took to Facebook to vent her disgust on Monday night with the following post, which has subsequently been deleted.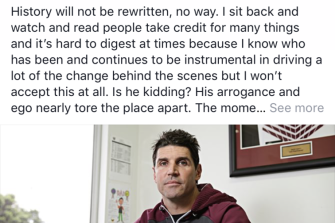 "History will not be rewritten, no way," she wrote. I sit back and watch and read people take credit for many things and its hard to digest at times because I know who has been and continues to be instrumental in driving a lot of the change behind the scenes but I wont accept this at all. Is he kidding? His arrogance and ego nearly tore the place apart."
And in a veiled swipe that implied Barrett had stopped listening to her father, who was the head of football for much of the former Dragon's time at the club, she added: "The moment he stopped listening to experienced and smarter people than him and surrounded himself with those with no idea was the moment he was destined to fail as a rookie coach."
It is understood Bob and Scott Fulton, the latter also tasked with recruitment at the club, played a role in signing some of the players Barrett was referring to.
Barrett had alreadRead More – Source