Jesse Bromwich knew the clock was ticking as he lay in his sick bed early last week.
The Melbourne Storm prop had been struggling with a bug and it hit him hard early in the week.
So instead of training with his side as they prepared for captain Cameron Smiths 400th game, he was sleeping and conserving strength in the hope he could prove his fitness to play.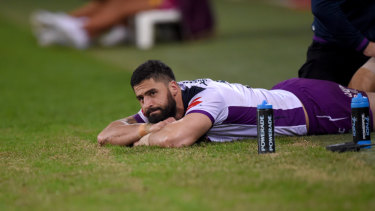 Much like Smith, the Storm consider Bromwich one of their most resilient players, so they gave him every possible minute to prove he was healthy enough to play on Saturday night.
Advertisement
They had their concerns but he trained on Friday and then on game day put on a tireless performance in the club's 40-16 win over Cronulla Sharks.
Bromwich clocked up 215 run metres and in tandem with Nelson Asofa-Solomona (171 run metres) overpowered the Sharks.
Bromwich wasn't spent at full-time either and he, Asofa-Solomona and the team's other New Zealand born players and staff performed a haka in Smith's honour after the team song.
"I was sick all week, I recovered on Friday for captains run because there was no way I was missing Smithy's 400," Bromwich said.
"With what he has done for myself, my family and for my own journey – he has made me a better player and a better person and I wanted to repay that by having a good game tonight and making sure we won."
Bromwich admitted he was very unwell in the early days of the week.
"I was sick but it didn't matter how I felt as I was definitely going to play," Bromwich said.
"I was pretty sick at the start of the week. I came down with something on Sunday and slept for three days.
"I felt fresh today, ready to go and it's easy to get up for these milestone games."
During his years with the Storm Bromwich has always been a pace-setter for the forward pack and consistency but his metres in the Sharks game surprised him.
"It's a good surprise when that happens but I would have had most of the kick-off runs so they usually take in most of the metres. I just wanted to do my job and make everyone proud.
"When Nelson is running the ball strong it mRead More – Source