Cameron Smith had a private dinner on Thursday night for significant figures in the game who have played a role in his career as he rolled into his 400th game last night. The bosses of the game were there, as was his Storm coach, Craig Bellamy, and former teammate Billy Slater, among many others.
Cooper Cronk wasnt there.
Smith was the one who did the invitation list. They were sent out via Smiths management group and, in the case of football figures, they were sent to their management groups. We checked with SFX Sports Group, which manages Cronk, and it said no invitation had been received for the Roosters star. So, its official: Cronk and Smith dont get along. Its a relationship beyond repair.
The pair played hundreds of games together for the Storm, Queensland and Australia, but they are no longer friends. Reasons for the falling-out have been put forward from Smiths camp, and they surround Cronks exit from the Storm at the end of 2017. The suggestion is Smith was not happy Cronk made it about himself.
Advertisement
The truth is far more personal and relates to the way the Smith family treated the Cronks in relation to a matter away from football. It was fairly average. And Cronk is entitled to stand his ground.
Cronk has only been respectful about Smith in public.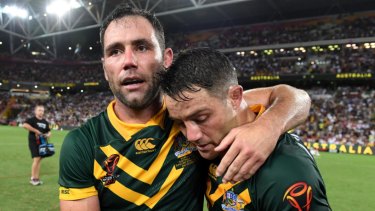 The Storm asked Cronk to do a tribute message for Smith and he did. That says plenty about Cronk. Smith deserves praise for his on-field efforts. He is the greatest hooker the game has seen and in the conversation for greatest ever.
This column is not his biggest fan. He lost me for the way he handled himself when Alex McKinnon suffered an horrific spinal injury in a game in Melbourne in 2014. Smith continued arguing with the referees while McKinnon lay motionless and then failed to apologise for his behaviour. Eventually it was McKinnon who called Smith to clear the air long after the initial incident.
Sadly, in my view, the Smith celebration overshadowed Benji Marshalls 300-game milestone.
Marshall has genuinely influenced a generation of players. There were kids in parks everywhere doing a Benji sidestep.
So many NRL players list Benji as the man they loved growing up. Ill often ask a young player who they admired. So often theyll say Benji. I put that question to rising Cronulla star Bronson Xerri. He told me he played in the halves in his young days and wanted to be like Benji. I was sad when Marshall went to rugby and Im enjoying every moment of his revival.
Addo-Carr gives fan small piece of inspiration as he begins real battle
The Trbojevic family has known the Valentino family for years. But thats not how Tom Valentino got to spend the captains run with the Blues. Or walk up the tunnel with the Blues. Or sit in the coaches box.
When my family moved to the northern beaches, the Valentino family were the first ones we got to know, said Blues adviser Greg Alexander. I got to know them through coaching junior sport.
Alexander is fond of the family and is feeling for them as 15-year-old Tom battles cancer. He is undergoing chemotherapy.
He loves his footy and we wanted to lift his spirits, Alexander said. Obviously he loves Manly and knows the Trbojevics well, but I asked him his favourite player [and] he said it was The Fox, Josh Addo-Carr. He came into camp with us and Josh spent so much time with him, just talking, playing Xbox. And then after the game he gave him his Blues jumper. Josh went above and beyond. I cant speak highly enough of Josh.
Addo-Carr said he had enjoyed his time with Tom and wished him all the best in his fight. I was so happy to have the chance to meet him, he said.
Now the NRL has to put its money where its mouth is
The NRL reacted swiftly to our piece last week accusing powerbrokers of failing to defend the game against claims that it hadnt done enough to protect players from head knocks.
As we said, the NRL has done a good job putting protocols in place to protect players, but no one was defending the game publicly, even in the face of threats by lawyers to launch class actions.
Australian Rugby League Commission chairman Peter Beattie issued a statement saying player safety was a priority.
He then texted me saying: The NRL will continue to use research based on the International Consensus on Concussion in order to shape the codes guidelines. Venues now use Hawk-Eye technology in order for club medical staff to review incidents.
We are also gradually changing the culture among the players to now realise it is in their interests to come off the field to be tested if they have sustained a head knock.
All head injury assessments are reviewed at the end of every round, using the bunker technology. Every angle of every incident is assessed through the process. On occasions clubs are asked to explain the circumstances surrounding some interchanges. While many of those have been quite legitimate, some assessments have led to warnings or fines.
What the governing body failed to do, however, was allocate one extra dollar to help players suffering from the effects of concussion. There was no promise to provide treatment for players who gave so much to the game that is now raking in millions of dollars a week. All we got was an assurance that the commission takes concussion very seriously.
Unfortunately, that promise sounded pretty hollow when the referees failed to stop play with Warriors player Peta Hiku dazed on the ground during their match against the Knights.
To make matters worse, the NRLs match review committee then decided that Kyle Flanagan shouldnt miss a match for kneeing Matt Lodge in the head. So much for taking concussion seriously.
Beattie and chief executive Todd Greenberg need to realise that the concussion issue is not going away. They need to start providing financial support to back up their words.
$600,000 well spent?
There is growing concern among the clubs, states and even the ARLC about the way money is being tossed around at NRL headquarters.
It has been a bumper year for the game financially. The NRL received big money to take Magic Round to Queensland and Origin II to Perth. Millions of dollars, in fact.
Then the governing body hit the jackpot this week when Origin went to a decider and attracted a sell-out crowd at ANZ Stadium. It is now expected that the NRL will come in millionsRead More – Source