Paris: It felt like a final, the two favourites in the Women's World Cup playing for coronation, not simple advancement. The stadium was throbbing. Ticket sellers were asking thousands of dollars for a single seat. Pressure and anticipation seemed to bake, as the temperature hovered near 90 degrees.
It seemed, too, as if more than a quarter-final victory were at stake when the United States faced France on Friday, perhaps even validation of women's soccer's mainstream appeal.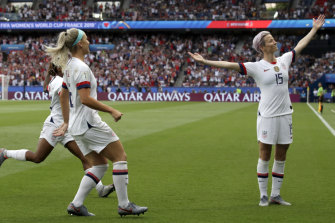 Nobody seemed better prepared for the moment than American forward Megan Rapinoe. She scored twice in the 2-1 victory over France. Rapinoe did not seem distracted in the slightest after her midweek jousting with President Donald Trump, who had criticised her over her refusal to visit the White House if the United States won its fourth World Cup.
"I don't really get energised by haters or all that," Rapinoe said after the game. "I feel like there's so many people that love me, so I'm like: 'Yay, keep loving me. This is great!' I'm more energised by that."
Advertisement
I don't really get energised by haters or all that.

Megan Rapinoe, US women's soccer team
If the Americans – the only non-European team among the eight quarterfinalists – are to be thwarted in their defence of the 2015 title and dislodged as the No. 1 team in the world, that must wait until at least Tuesday, when they will play a semi-final against England in Lyon.
But England will have to contend with Rapinoe, who has scored five goals in her team's five World Cup matches and has surged through this tournament with a freewheeling personality off the field and a merciless intent on it.
"It's the knockout rounds," Rapinoe said. "You don't get past it without statement performances."
Asked beforehand if Rapinoe's dispute with the president would distract the US team, coach Jill Ellis answered emphatically that it would not, saying that her team "lives in pressure" as if it were a garment.
From the kick-off Friday, Rapinoe, who will be 34 next week, led the attack, scoring the first goal in the fifth minute.
Near the end, Rapinoe, who seemed to have used all the fuel in her tank, was replaced. She had to watch the five minutes of added time from the bench.
The French were left devastated, some bent over, others with hands on hips or arms on heads, a few shedding tears.
They had played to large crowds and record television audiences for three weeks — Friday's game at the Parc des Princes stadium drew almost 46,000 fans. This was to be the moment of arrival for women's soccer in France, which had been banned as too masculinising during World War II and was not approved again by the national soccer federation until 1970.
But the French team again left a major tournament with nothing to show for its efforts. It has never finished higher than fourth at the World Cup, the Olympics or the European championships. It has departed its last five major tournaments — two European championships, two World Cups and an Olympics — in the quarterfinals.
Losing at home, to the United States, with the whole world watching, will only make the sting sharper.
The Americans formed a circle and danced as, thanks in large part to Rapinoe, they moved on to the semifinals for the eighth time in eight Women's World Cups.
"It's such an honour to be her teammate," Samantha Mewis said, adding, "A World Cup is about coming up big in big moments, and that's what she's doing."
Rapinoe's first goal came on a wicked free kick that appeared to dip through the legs of both US midfielder Julie Ertz and Amandine Henry, the French captain, before sailing past goalkeeper Sarah Bouhaddi, who did not haveRead More – Source