Footy supporters clashed in the stands at the final siren of Saturday's nail-biting AFL match between Carlton and the Western Bulldogs.
Police waded in to break up the scuffle at Marvel Stadium involving a group of people, which came amid fans outrage over "behavioural awareness officers" patrolling the crowd during Friday and Saturday's matches.
One video of the fight shows a group of men and a woman trying to restrain one supporter who is eventually led away by police.
At one point, a liquid is poured onto the scuffle from above.
Advertisement
Police confirmed they responded to several people "pushing each other" around the stadium's aisle 12 – near the members' reserves – about 10.10pm. They separated them and took down their details.
Police said they were not aware of any injuries.
"The incident is still being investigated and police are yet to identify all involved," they said.
The thriller match between the Western Bulldogs and Carlton swung like a pendulum, with the game only decided when the umpire paid the Bulldogs a free kick in the dying seconds.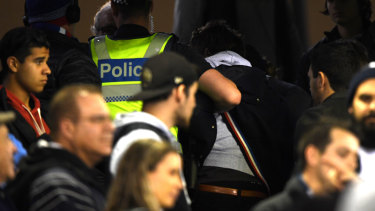 The scuffle happened despite the appearance of "behavioural awareness officers" patrolling the crowd at Friday and Saturday's matches.
AFL fans took to Twitter to voice their complaints over the officers, but Marvel Stadium says they have been in place all year.
Essendon Football Club recruiting consultant and former AFL coach Robert Shaw tweeted a photo of the officers with: "40 years in the game and played, coached and spectated at some inhospitable (wonderful) rival grounds. This is a first for me. Have we really got to this? So sad if we have."
Fans responded that it was "embarrassing" and "political correctness gone into new levels not seen".
The officers' vests feature a phone number to "report antisocial behaviour".
Hawthorn supporter Vic Ghiller told The Age the officers were at Marvel Stadium Friday night.
"They were actually patRead More – Source