After Saturday in the Queen Elizabeth Stakes the legend of Winx should be allowed to blossom further in memory and not on the racecourse.
Yes, this champion of champions has never raced better: a seven-year-old freak with the horsepower of a four-year-old which could possibly take a fifth Cox Plate or even put more fizz into the champagne at Royal Ascot.
But 33 wins straight, notched under Aussie eyes, is a record to be cuddled and Winx should leave healthy and intact.
Hugh Bowman, who knows her so well, reckons Winx has more to give which opens the possibility that Saturday may not be her swansong.
Advertisement
Perhaps Makybe Diva, another champion with three Melbourne Cups on her score sheet, could have raced on but as her prime distance was 3200 metres defeats didnt matter to the same degree.
Alas racing now is at the crossroads of public opinion. No doubt animal activists will be on the squawk outside Royal Randwick this week.
Until more recent decades champions being beaten didnt carry the same gravitas but being so good for so long makes Winx special.
The only time the industry has ever been under such pressure regarding horses was when the newspaper barons called for the scratching of Tulloch from the 1957 Melbourne Cup maintaining he was a three-year-old and too young to carry 52.5kg which would have only been useful ballast.
Until more recent decades champions being beaten didnt carry the same gravitas but being so good for so long makes Winx special.
"Bradman getting bowled by a wrong-un at his last dig only enhanced his legend," the astute Jason Keegan emailed, questioning the value of the successful sequence.
However Bradman wasnt at risk of being felled by a Harold Larwood headshot at that stage.
Even Tommy Smith, who preached that thoroughbreds were meant to race not cavort in paddocks, hardly risked Kingston Town after the light of his career was dimming.
When it was announced Kingston Town was going to make a comeback I wrote that his legendary status should not be jeopardised.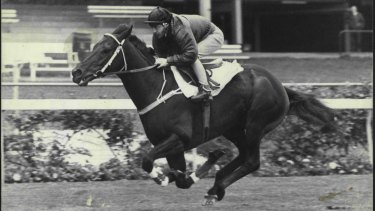 Smith told me, off the record, that Kingston Town would not race again but the wanted the old gelding under his eye as the training process progressed after a repatriation stint in the United States.
Kingston Town officially retired in 1982 following the Western Classic victory in Perth. Two years later, after his suspensory ligaments were patched up, the gelding went to the famous Charlie Whittingham as a northern hemisphere nine-year-old.
"He wasnt any spring chicken and running on old tires," Whittingham recalled to Graham Kelly for The King.
"Theres no place in racing like California for speed but they dont run any faster than he did (in a track gallop)."
Owner David Hains, a caring owner with great results, would not race Kingston Town on the painkiller butazolidin, permissible in California, so he returned home in 1985 to a lush paddock. But the gelding had no desire to quit and Hains announced he would be set for his fourth Cox Plate at Moonee Valley.
"Risk is an inherent of racing unfortunately," Hains told Kelly, a quote that can be applied to the Winx situation now." Every horse and every jockey are at risk when they go onto a racecourse. I believed Kingston Town was safer racing than in a paddock.
"I was fully aware there would be a mixed reaction about returning Kingston Town to racing. We came to the conclusion the opinion of other people wasRead More – Source