There had been times in recent decades that Victorian cricket had been accused of being too focused on winning domestic titles, rather than developing talent to represent Australia.
Unfairly or fairly, that was the tag although there are variables that go into constructing a clear picture, including how many serious vacancies there were in the Australian side at the time.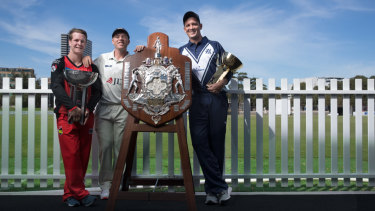 Well, this summer has proven Victorian cricket can have the best of both worlds.
Marcus Harris, the former Western Warrior, has taken his game to a new level and played six Tests. Peter Handscomb and Aaron Finch also saw time against India. Chris Tremain was part of the initial squad selected for the Indian. Peter Siddle returned to the XI in the United Arab Emirates. Will Pucovski was drafted into the Test squad. Glenn Maxwell has become a foundation piece of Australias mid-year World Cup campaign.
Advertisement
As Harris dwelled on having celebrated a summer treble, that being a member of the Vics winning Sheffield Shield and domestic one-day campaigns, and also of the Melbourne Renegades Big Bash League title-winning team, the robust left-hander said Victorian cricket had the ideal make-up.
"I think we have a great group of players. Young blokes coming in and having that opportunity to play with higher-class cricketers, that just makes them better.
"You watch guys like Matt Short and Seb Gotch, just watching them grow throughout the year … just from playing with experienced guys like Sidds [Siddle] and Patto [James Pattinson]," he said.
"I think thats whats good about our program – a good mixture of youth and experience and everyone learns from each other."
Harris, who is looking forward to some time off before an Australia A camp in Brisbane in early May, has also benefited from the wise words of Victorian coach Andrew McDonald and batting coach Lachie Stevens.
He said "getting older" had been a factor in his rise but also "probably the freedom I have with 'Ronnie' and Lachie Stevens, give me an opportunity to grow and learn and work stuff out for myself".
"If I need help, they are there to help," he said.
Harris also certainly will be part of the Australia A tour of England, and remains in firm contention for the ensuing Ashes series.
Fast bowler Tremain is also firmly in the hunt for the Australia A tour, having pocketed 45 Shield wickets at 22.42 and, like Harris, celebrated the treble.
However, The Age can reveal he is weighing up an offer to join the Sydney Thunder in next summers Big Bash League. League sources said the Thunder had tabled a lucrative, multi-year offer but the Renegades are keen to retain him. The Sydney Sixers had also made aRead More – Source