Canberra and gold are the common links between Australia's two flag bearers at the Youth Olympic Games.
Keely Small, who carried the Aussie flag at the opening ceremony, is from there, while Grace Kim carried it at the closing one before going on to win the Federal Amateur Open there on Sunday.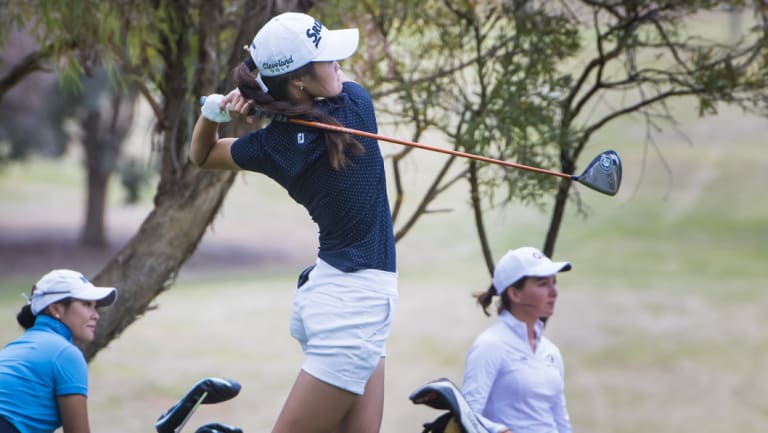 Both won gold medals in their respective events. Small in the 800 metres. Kim in golf.
A month later and Kim was back to her winning ways, cruising to an eight-shot win in the Federal women's over second-placed Doey Choi.
Advertisement
Corey Lamb produced a stunning final hole to win the men's, pinching the title by one shot from Charlie Dann.
For Kim it was a far more comfortable win, leading from the opening round to add to her victory at the Youth Olympics in Argentina.
That gold medal earned her the right to carry the Australian flag at the closing ceremony.
"[Keely] was the opening ceremony flag bearer and I was the closing ceremony flag bearer. Something in common," Kim said.
"She was really good. She won gold as well."
The 17-year-old has her sights set on turning professional over the next few years and saw both the win in Buenos Aires and the one in Canberra as important steps along the way to achieving her dream.
She has a couple more amateur tournaments to play in Melbourne this year, the Dunes Medal and the Victorian Amateur, before the Annika Invitational in New Zealand.
"I was pretty surprised with myself. I stayed in the present and didn't allow bad shots to get to me," Kim said.
"My mindset was really good for the whole three days so really proud of myself."
It was a fellow 17-year-old who won the men's title.
Lamb has taken time out from his year 12 studies to come down from the Hunter Valley to win the Federal.
And he won it in stunning style, turning a one-shot deficit going into the 72nd-and-final hole into a one-shot lead.
He sunk a five-metre putt on the 18th green to put the pressure on Dann, whose approach had finished closer but just off the front of the green.
Three putts later and the title was Lamb's.
He also tasted victory in the International Players Championship on the Maple Leaf Junior Tour in Canada in August.
"I knew I had to do something because he played pretty solid all day, and I just hit a good shot in," Lamb said.
"I knew I just had to give it a chance to go in and yeah, he made a bogey, three-putt, and I sank mine, so there you go."
Meanwhile, Matthew Millar finished in a tie for 14th with a four-under final round moving him back up the leaderboard of the NSW Open on Sunday.
He finished 11-under – nine shots behind winner Jake McLeod.
FEDERAL AMATEUR AT A GLANCE
Men: 1. Corey Lamb -14, 2. Charlie Dann -13, 3. Joel Shields -12, 4. Lukas Michel -11, 5. Alessandro Neseda, Aiden Didone -9.
Women: 1. Grace Kim -5, 2. Doey Choi +3, 3. Jihye Park +5, 4. Cassie Porter, Jessica Pickwick +7.
David Polkinghorne covers the Canberra Raiders, local rugby league, Canberra Cavalry, racing and cycling, along with every other sport, for The Canberra Times.