In the spring of a three-year-old colt or filly's life, there's no denying that the 2500-metre Victoria Derby and VRC Oaks are stamina-sapping tests of strength, staying power, mentality and maturity.
Some have claimed, in the current Australian bloodstock climate, that the race is an anachronism – a throwback to the 1800s and the first half of the 20th century when Australian racing was still heavily influenced by the customs, practices and breeding fashions of British racing.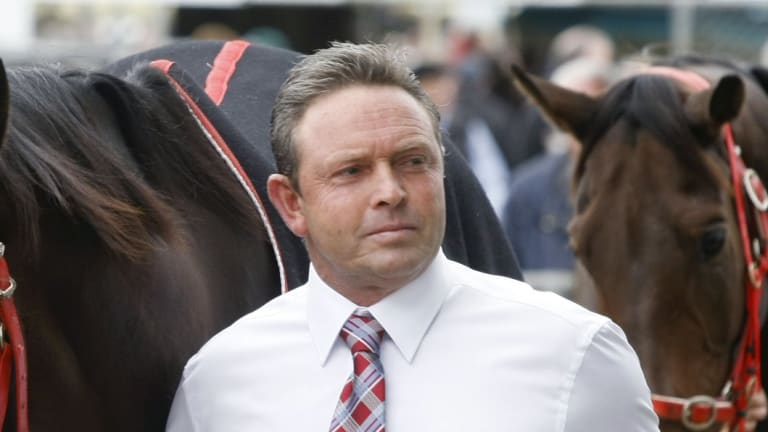 Certainly Australian studmasters have changed their emphasis dramatically in the past 30 years: speed is now the raison d'etre for the vast majority of matings and virtually all breeders are ideally trying to produce horses capable of winning rich sprints like the Golden Slipper, the Golden Rose or Saturday's Coolmore.
But the Derby, and its 2500-metre distance, is here to stay and no plans are being made to shorten it in trip.
Advertisement
This year it boasts – as it so often does – a full field of 16 with two emergencies. And that, says Racing Victoria general manager Greg Carpenter, illustrates that whatever the doomsayers might argue, the race and its $2 million prizemoney are still a very attractive prospect for any owner or trainer.
"RV has positioned Victoria as the home of stayers. We are very supportive of providing opportunities for people who breed stayers, and we want to provide races to develop stayers here in Victoria and Australia.
"Ace High won the Derby last year and was narrowly beaten in the Sydney Derby in the autumn and he will take his place in the Melbourne Cup field," Carpenter points out.
"We are committed to continuing the tradition, and the distance as it currently is, into the future.
"Every year we are encouraged by the number of horses who head to the Oaks and the Derby and frankly if you look at the number of horses out of the Derby who are subsequently group 1 winners it holds up against derbies around Australia and most other derbies internationally."
Ace High and last year's Melbourne Cup winner Rekindling were both by the now deceased stallion High Chaparral.
Carpenter points to them as evidence that you can breed a top staying horse in Australasia if you want to.
"Efficient was the last Derby winner to go on and win the Cup but we are pleased with the way the Derby shapes up every year and we are committed to its continuation over a distance of 2500 metres."
Robbie Laing, who trains the well-fancied Stars of Carrum, is a huge supporter of the race.
"If they want to make it elitist racing, bring the distance back, so all the million-dollar yearlings can have a throw at the stumps over 2000," he says ironically.
"If they want to create stayers in this country, leave it as it is. It's all about the way you train them and aiming the right horses at the race. A lot of horses fall apart but they do if you train them like an older horse and rush them.
"I have had 10 runners in the last 12 years. I can get them there. I hope on raceday I have got them fit enough and they go round, they are sound and run to their best.
"I won it with Polanski, who was a big barnstorming horse. Pissaro ran fourth last year. So Si Bon was a good thing beaten, ran fourth the year before. We have had plenty of runners, many finish in the top half if they are good enough."
Team Hawkes saddled the third-placed finisher in the 2016 Derby, Inference, and Wayne Hawkes is another trainer happy to see the race left where it is.
"Leave it at 2500 metres. If it ain't broken don't fix it. If you think your horse won't stay, don't run him.
"If you have a 1400-metre horse and you'd love to run him in a mile race but he doesn't stay, you can't. It's the same for the Derby.
"If I had a great 1400-metre horse I might say bring the Doncaster back to 1400 metres, change it from a mile. But they wouldn't would they.
"It's young three-year-olds, it's a mile-and-a-half. lt is what it is. Anyone who wants to complain leave it. you don't have to run."
Peter Moody made his name in Victorian racing by saddling Amalfi to win the Derby in 2001. It was his first big triumph, and, like Laing and Hawkes, he says the Derby is fine as it is for trainers who have the right kind of horses to run in it.
"It's been there for a very long time in its present shape. History doesn't always have to stay the same, but it has shown it works.
"I will always remember it when I started with Amalfi. That was a great day for us."