A rift between Football Federation Australia and the family of the country's brightest young female footballer has heightened the risk of Mary Fowler turning her back on the Matildas to play for the Republic of Ireland.
The Fowler family perceived comments on their lifestyle made by Matildas coach Alen Stajcic on Thursday as inflammatory after he questioned their decision to withdraw the young striker from Australia's upcoming friendly series at home to Chile.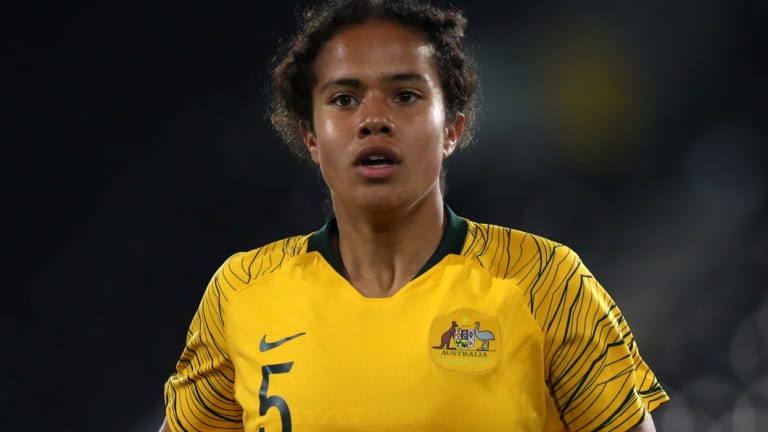 Fowler knocked back a call-up to the Matildas' squad for the two games after her father made her unavailable, choosing to put the 15-year-old through a sprint training program run by the speed coach of Cristiano Ronaldo ahead of a series of trials with European clubs instead of linking up with the Australian national team.
It's understood the FFA were baffled by the rejection. Stajcic made no secret of his disappointment at not having the prodigal youngster available for the Chile series and made reference to the family's regular relocation in a press conference on Thursday.
Advertisement
"They've lived an alternative lifestyle – if you'd like to call it that – over the last couple of years and the father has a whole family he is trying to look after and protect and foster their growth on and off the field," Stajcic said.
"Their family has trodden a unique path, and who are we to judge whether it's the right or wrong path? The father has kept the family unit tight together travelling over the whole world supporting the brother with his professional career as well."
Fairfax Media approached Kevin Fowler, Mary's father, but he declined to comment. However, it's understood the family is deeply disappointed by Stajcic's public remarks.
The handling of Fowler's rejection of the call-up has strained relations between the family and the FFA at a time where the young striker is being courted by Republic of Ireland, whom she is eligible to play for due to her father's birth.
Despite making her international debut for Australia in last month's friendlies against France and England, Fowler is still eligible to switch international allegiance. Her sister Ciara and brother Quivi have both represented the Republic of Ireland at youth level and already Mary has stated her desire to play for the same country as her siblings.
"I want to play for Australia, but obviously Ciara and Quivi have played for Ireland. And we all want to play together for the same country. Family is really important to me, its important to all of us. Im not in any rush to make that decision right now, Im only 15, so well see," Mary told AAP in July.
Instead of travelling to Sydney for the Chile game, Fowler is in Manchester training with Mike Clegg, the former Manchester United fitness coach and speed trainer for Cristiano Ronaldo. It's understood she is set to trial with several European clubs, including Bayern Munich, having turned down contract offers from a host of W-League teams for this season.
"She's an amazing talent with amazing potential. We have to keep in the back of our minds she's only 15," Stajcic said.
"At her age, she is certainly one of the best we've ever had come through. The evidence of that was when she came on against England and caused them all sorts of problems."
The tight-knit family of five has moved between countries several times in pursuit of their footballing dreams. All of the Fowler children aspire to play professional football. Quivi, 19, is contracted to Dutch second tier club FC Dordrecht but is understood to be on the cusp of departing the club.
Dominic Bossi is a football reporter with The Sydney Morning Herald.
Vince is a sports reporter for The Sydney Morning Herald.