There are many reasons why companies host customers, VIPs and their staff in marquees at the races.
Some do it to say thank you to big spenders, or reward hard work, while others do it to sweeten deals, or, for that sometimes woolly term in marketing speak: "brand building".
But this year, possibly more than in recent times, there's an opportunity for brands to turn those experiences – the wining, dining and frivolity – into cold, hard cash.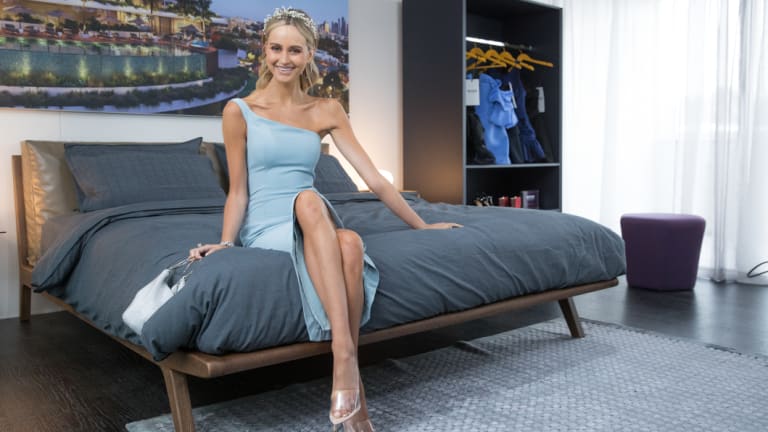 Advertisement
Take the Pace Penthouse, the most "transactional" of the marquees given its direct link to sales of a 300-apartment complex being built adjacent to Flemington Racecourse.
In launching the marquee on Wednesday, The Block judge Neale Whitaker, an ambassador for Pace, said the space was a "triple first" for the Birdcage.
"It's the first time … racegoers can experience the environment of a … luxury apartment in the Birdcage," he said.
Making its return for the second year as Oaks Day sponsor, luxury watch retailer Kennedy has about $2 million in jewels in its marquee windows. While only an impulsive shopper would likely take one home on raceday, James Kennedy said the pieces are available to buy.
"It's no different whether [the watches] are sitting in a store window or in our marquee. I dare say we won't transact here on track, but certainly if customers are interested we will have staff around and they will be treated as if they walked into a store," he said.
Mr Kennedy said it was difficult to quantify how much new business was written as a direct result of the races, but "holistically", across measures such as social media activity and web traffic, there was a definite spike around the spring carnival.
"There were a few customers we had as repeat buyers during that period," he said.
And while you could technically pocket a luxury watch at the races without too much logistical bother, how about a car?
Nick Raman, public relations manager for Lexus Australia, said guests "enamoured" by a certain car have walked away with new wheels shortly after visiting the marquee at Flemington.
"It's important the way a car is on display at a major event such as the races or a motor show. It needs to attract attention," Mr Raman said.
The kind of attention that can translate into serious dollars.
Melissa Singer is Fairfax Media's Deputy Lifestyle Editor, and Fashion Editor.