Essendons prized recruit Dylan Shiel says his decision to choose Essendon over Carlton, Hawthorn and St Kilda was a close call and that the opportunity to play on Anzac Day and in the Dreamtime game at the MCG attracted him.
Shiel said he felt that he and Essendon were well matched in terms of how the club and himself were placed in their journeys. It was a pretty close call. All four clubs were great, said Shiel. I didnt think there was going to be a wrong decision.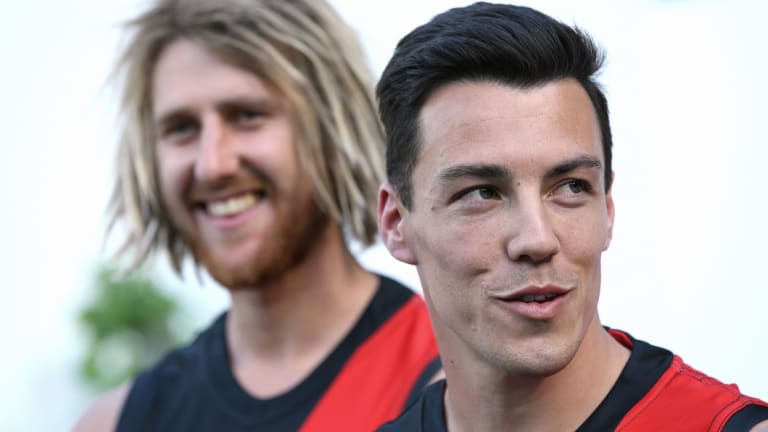 But, you know, it just seemed like where Essendon were in their journey and where I was in mine, it just seemed right for me to be at the club … it was pretty close at the end.
Shiel said he had always dreamt of playing for a Victorian club and he mentioned that he was impressed with Essendons leadership, including skipper Dyson Heppell and the off-field leaders such as John Worsfold, and that he relished the opportunity to play for a big club.
Anzac Day and Dreamtime at the G was definitely a factor, he said.
Advertisement
Shiel will face his old team, the Giants, in the opening round. The midfielder, who acknowledged that it was probably a question of whether he left the club this year or next (as a free agent), jested that Gil (McLachlan, AFL boss) stitched me up with that one, adding that he wouldnt have minded getting to play some games with his new teammates before facing the Giants.
Coach John Worsfold said that the addition of Shiel would lift Essendons solid midfield to one that could match the best in the competition.
Our midfield was solid without probably matching some of the best midfields … I think we match that now.
Heppell said Shiel would add a different element to the clubs midfield, with Shiel having the ability to push forward and kick goals.
Shiel was unveiled yesterday, along with Essendons new co-major sponsor, the furniture company Amart, whose five-year arrangement with the club will earn the Bombers more than $2 million a year.
The Dons believe their jumper will be worth more than any other club in the AFL as a result of the sponsorship.
While the Shiel deal went down to the wire on the deadline of the trading period, list manager Adrian Dodoro said the Bombers had never been concerned that they would miss Shiel, or that he would be swayed to join Carlton late in the trades. We werent worried at all.
Worsfold said the Bombers had addressed the issues that led to them having a poor 2-6 start to the 2018 season, costing them a finals berth.
Ive had a close look with everyone at the club around what were the possible factors that meant we started slow and we believe weve addressed all the ones that we could come up with.
Worsfold said that key forward Joe Daniher, who was injured for much of last season with a groin problem, was progressing well in his preparation for next year.