In Lynn Haven on the northern edge of Panama City, the scale of the challenge to recover from Hurricane Michael is just sinking in.
We stopped in New York Avenue, a small street lined with trailers and modest homes.
Power lines and poles criss-cross the standing water in the street, tree branches poke through roof tops, splintered furniture, porches and bits of property are mangled in to the debris.
There is no way to drive in or out.
"It's like a bomb has gone off," said Tracey Holt, who only moved in a few weeks ago.
"Yesterday I was able to walk out and actually look. It hit me at that moment and I just broke down because it was unreal, unreal – I don't know any other way to put it."
:: What was it like being at the centre of Hurricane Michael?
John Richardson showed me his badly damaged trailer. It is almost impossible to live in but he and his family, including three small children, have no choice.
Their mobile phones are dead, there's no power, and their car is blocked in. But they have no money and nowhere else to go anyway, he says.
"We have to come together because can't nobody get to us," he said. "Everybody here, we've got to take care of each other.
"We've been here for a couple of days without water. My body is so dehydrated it started cramping last night."
If the power company doesn't come to move the power lines soon, the whole family might have to make the trek into the city on foot to see if they can access the emergency food and water supplies that are starting to dribble in.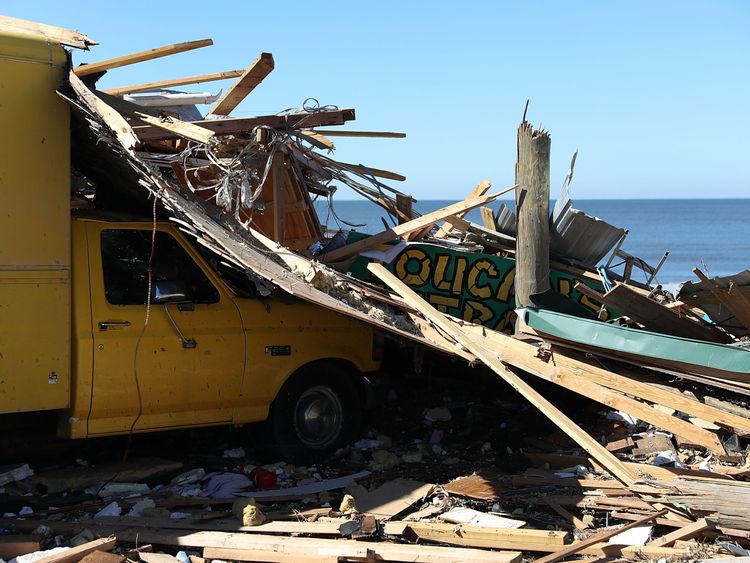 John takes me to see some elderly neighbours he is worried about.
Phillip Ingram and his wife both use wheelchairs and cannot get out of their property, which is surrounded by huge fallen trees.
Their kitchen roof is open.
"I've been in Florida all my life but I ain't never see anything like this," Phillip said.
He is hoping that a friend on the other side of town will bring over a truck and take them to get food and water supplies.
Nearby, we found Lynn Haven city manager Michael White trying his best to coordinate a huge emergency response and clean-up effort.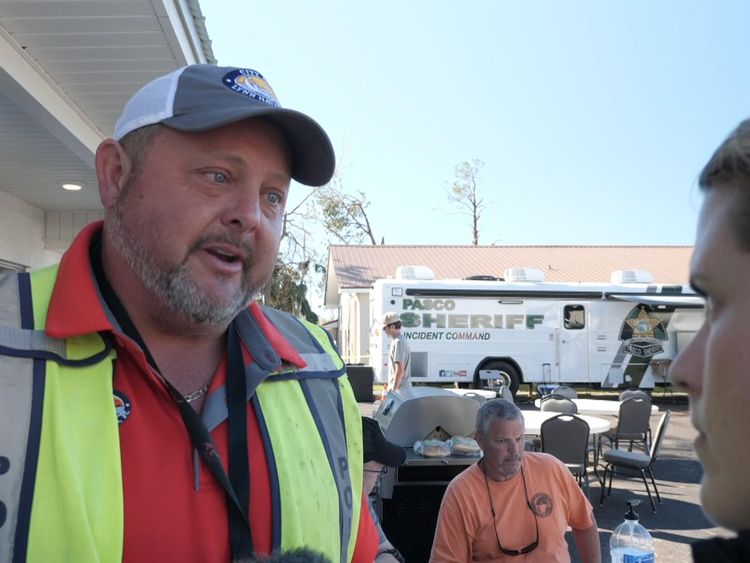 At every turn he is hampered by limited communications and the sheer magnitude of the task.
"We need people to get out of Lynn Haven," he said.
"I understand people want to come and check on their properties, but there is nothing here, and they are getting in the way.
"There is nothing here. You look at TV and you see these natural disasters and think, 'is it that bad?' Yeah, it is that bad."
His eyes start to fill with tears, and he apologises.
"I haven't had any sleep," he says. "It's just very hard, what's going on here, very hard."
The mayor of Lynn Haven has said it could be two months before power is restored.
More from Florida
It is a story being repeated across the Florida panhandle.
A region seemingly changed forever by Hurricane Michael.