Everest slotholder James Harron got his first up close and personal look at his horse for this years $13 million race, Vega Magic, at Randwick on Monday morning and the adjectives flowed.
"He is a powerful individual," Harron said. "Really impressive. He is a war horse and is exactly what you want in a sprinter. He surprised me because I had seen him on TV but up close he is just imposing."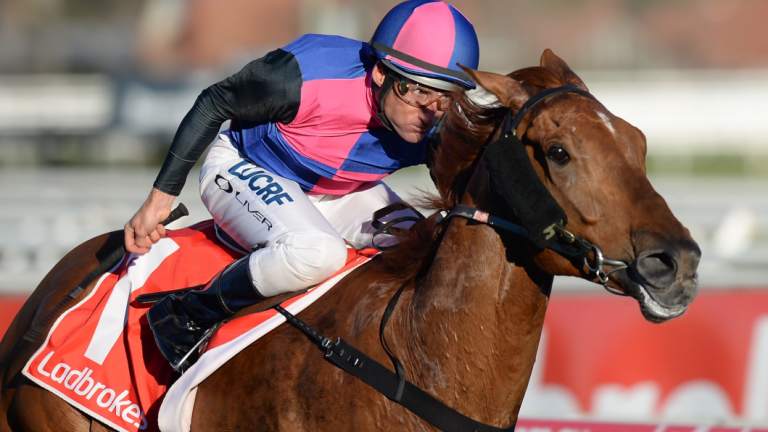 Harron had Redzel run and win in his slot last year and had to change tack when Yulong snared the defending champion. He quickly secured the unlucky runner-up from 12 months ago, after looking at the form, but had never had a good look at Vega Magic.
"He has been there raceday but you don't take notice," Harron said. "After the gallop, I left feeling pretty good."
Advertisement
All Harron wanted following the gallop was a good barrier. Vega Magic has been the focus of the controversial barrier draw, which takes place on Tuesday, with his colours and barrier 10 being used to show how the Opera House will look during the light show.
Fergus Doyle isn't liking the pressure or omen about the No.10. He has made a habit of selecting good barriers for Harron syndicate horses. He got gate two for Capitalist in the Magic Millions, four in his Golden Slipper win and last year selected four again for Redzel in The Everest.
"Fergus said to me he wished they would stop showing that [on the Opera House] because he thinks it's bad luck," Harron said. "He has had plenty of luck getting us the right barrier before and hopefully it wont be 10 [on Tuesday night]."
The final gallop on the Kensington track left co-trainer Tom Dabernig impressed as well and regular track rider Justin Henson declared it winning work on a track that was a soft-6.
"He really liked the ground and went over 1000m and ran his last 200m in 10.9 [seconds]. That's very good work," Dabernig said. "More importantly Justin said he moved well on the ground and his action was great and was very happy with the way he recovered from the gallop.
"It was just what we wanted to see. It's like the week before Christmas now, waiting for this race, because the build-up is so big and we will just have to count the days now."
Vega Magic will get the blinkers on again for The Everest following a similar preparation to last year when he was luckless before charging into second behind Redzel.
He had the blinkers on when he put three lengths into his rivals in the Bletchingly Stakes to start this campaign at the end of July before being game without the aid of the shades when fourth in the Memsie Stakes.
Dabernig believes he is more of a sprinter this year and will be sharper in the blinkers on Saturday as he goes into The Everest as a $7 equal favourite.
"We took him to Albury for jump out and he was very good there in them and I think is better than last year," Dabernig said. "We are confident he handles this way of going and after the gallop [on Monday] morning the soft track wont worry him. He would prefer it firmer but we are not going to get that."
Another of the equal favourites Trapeze Artist worked on the pro-ride track at Rosehill and will have a final hitout on Thursday.
Trapeze Artist, a three-time group 1 winner, has never been a star worker, but Gerald Ryan was happy with him.
"We planned to go Friday, Monday and Thursday with him and he did what he usually does," Ryan said. "We probably send him out on the course proper on Thursday but we are hoping this weather clears up, so the track improves."
Racing writer for The Sydney Morning Herald