By Rebecca Taylor, news reporter and Alan McGuinness, political reporter
Donald Trump will make his first working visit to the UK as president next week, with months of preparation set to come to fruition.
Protests are planned on the streets of Britain, from London to Edinburgh, as tens of thousands of people intend to voice their anger at his controversial policies.
Mr Trump's trip has already been downgraded from a state visit to a working visit, and there are suggestions he is being advised to avoid central London.
As many as 10,000 police will be on hand as a massive security operation kicks in – with some officers drafted in from other parts of the country.
The president's bulletproof and bomb-resistant "Beast" limousine is set to ferry Mr Trump around, surrounded by dozens of other cars driven by police and security services.
When is Donald Trump coming to the UK?
Mr Trump is due to arrive in the UK on the afternoon of 12 July, with the first full day being 13 July. There is speculation his trip could last three to four days.
He will arrive in Britain after the NATO summit in Belgium, and after he leaves the UK he will go on to a meeting with Russia's President, Vladimir Putin.
Where will he visit?
President Trump will fly into the UK early on Thursday afternoon and have dinner at Blenheim Palace in Oxfordshire – the birthplace of Sir Winston Churchill.
At the start of the event there will be a military ceremony in the Great Court, with a performance by the bands of the Scots, Irish and Welsh Guards. They will play the Liberty Fanfare, Amazing Grace, and the National Emblem.
Guests will include leaders from business sectors such as financial services, the travel industry, creative industries, the food and drink sector, engineering, tech, infrastructure, pharmaceuticals and defence, with the event celebrating the business links between the UK and US.
A number of classic British and American hits will be performed during dinner by the Countess of Wessex's Orchestra. The Royal Regiment of Scotland will pipe Mr Trump out at the conclusion of the event.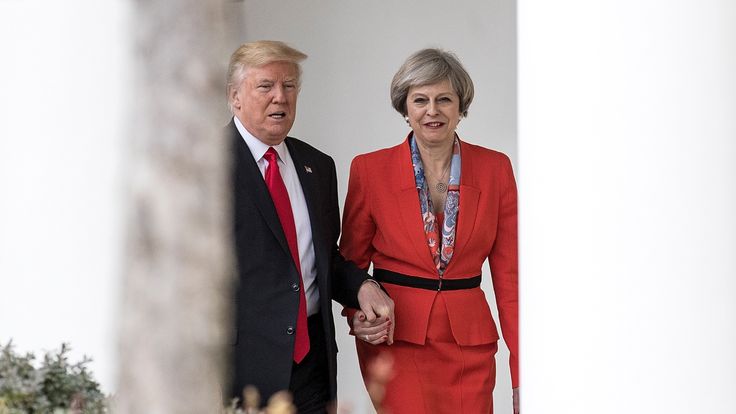 The president will then spend the night at Winfield House, the US ambassador's residence in Regent's Park, central London.
On Friday morning, Mr Trump and Prime Minister Theresa May will visit a defence site to see a demonstration of the UK's cutting edge military capabilities and integrated UK-US military training.
The pair will then head to Mrs May's country retreat Chequers for what Downing Street has described as "substantive bilateral talks on a range of foreign policy issues". This will include a working lunch.
A news conference will then be held.
Will he definitely meet the Queen?
Yes, the president will have a meeting with Queen Elizabeth II during his visit, at Windsor Castle on Friday afternoon.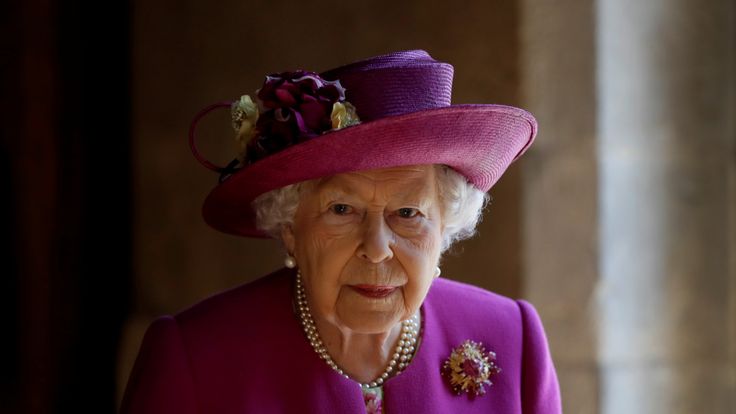 The fact that Mr Trump would be meeting the Queen was confirmed by the US ambassador in an interview with Sky News.
There had been speculation about whether he would meet the monarch or not, but it was understood Mr Trump wanted to.
Ambassador Woody Johnson told Sky News: "I mean he has to see the head of state. Putting his foot on British soil, it's job one, it's very important, very symbolic.
"Meeting Her Majesty is the most important thing, because she's the head of state, and from then on, it'll be what the president wants to do."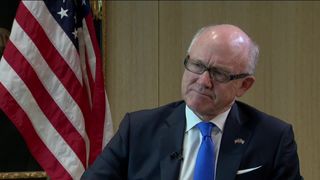 Will he really play golf?
We now know that after meeting the Queen, Mr Trump will travel to Scotland on Friday evening and spend the weekend there. So it is likely Mr Trump will fit in a round or two.
He owns two golf courses in Scotland, including the Trump International Golf Links in Aberdeen.
According to the Trump Golf Count, he has visited clubs 113 times since taking office, and there's evidence he played golf 56 times.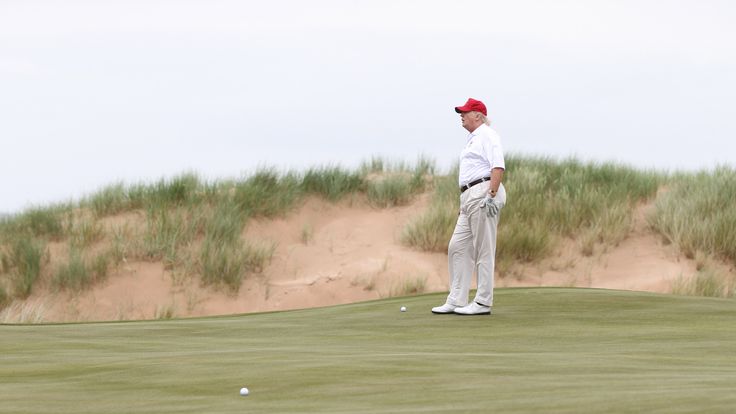 Is Melania coming?
First Lady Melania Trump will be with her husband throughout the trip.
She has been recovering from a kidney operation and has not been seen in public as often recently.
She missed the trip to Singapore when Mr Trump met Kim Jong Un, but has been visiting detention centres amid the migrant border row.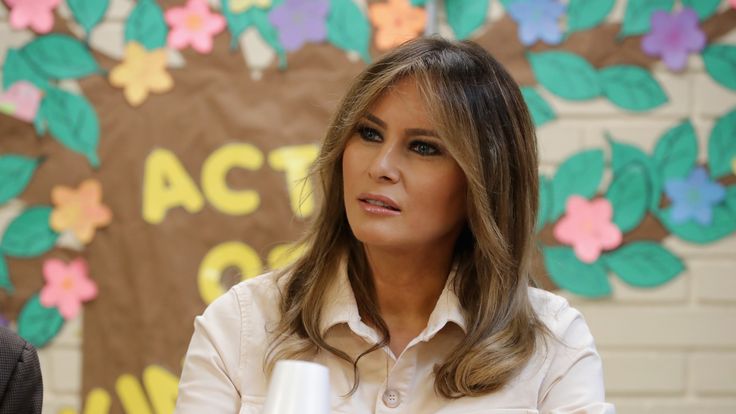 Was this always the plan?
No. Mr Trump was originally supposed to be in the UK in February, to open the new US embassy in Nine Elms, near Battersea.
But he launched a scathing attack on the new building, calling it a "bad deal" in a "lousy location".
There was speculation that he dropped plans to visit because he feared protests in the streets of London.
In November 2017, Mr Trump put the visit in jeopardy again when he retweeted an Islamaphobic video shared by Jayda Fransen, deputy leader of far-right group Britain First.
The videos purported to show scenes including "Muslim migrants beating up Dutch boy" but were widely discredited.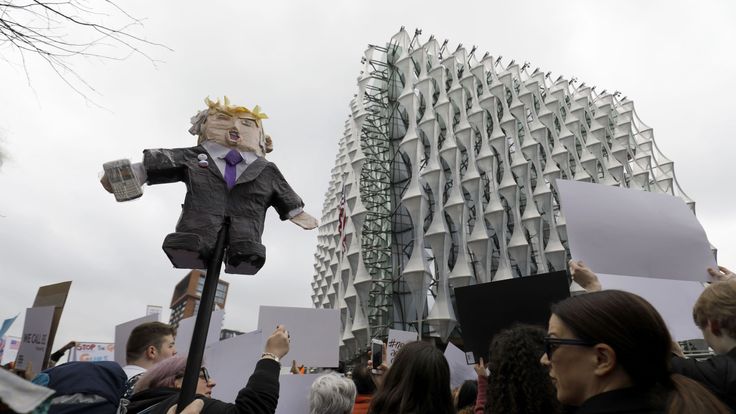 Is this a state visit?
No, it is simply a working visit, so there will not be the same level of ceremony involved as with a state visit.
This doesn't mean he would meet the Queen as a rule, but it is planned that he will.
There are two levels of visit – a state and an official or a working.
A state visit is made when the Queen issues the invitation, on advice of the government. They will be much grander occasions, though they have political purposes.
During a working visit, there will not be an invitation from the head of state and the visitor must cover their own costs.
Which other leaders will he meet?
It's not clear if he will be meeting with anyone else while on his working visit, but Nicola Sturgeon has said she would be keen to meet him should the opportunity arise.
Scotland's first minister told Sky News: "I will speak up for those progressive principles, those values of social democracy. The more politicians we hear doing that, the better."
She's previously admitted to being "horrified" by comments he has made.
What might be on the agenda for Mrs May and Mr Trump?
Tensions between the UK and US are high at the moment, because of a trade dispute between the nations. Mr Trump is increasing tariffs on UK and European products, which Mrs May has branded "unjustified".
In a statement released after a telephone call they had in June, Number 10 said: "The prime minister raised the US decision to apply tariffs to EU steel and aluminium imports, which she said was unjustified and deeply disappointing.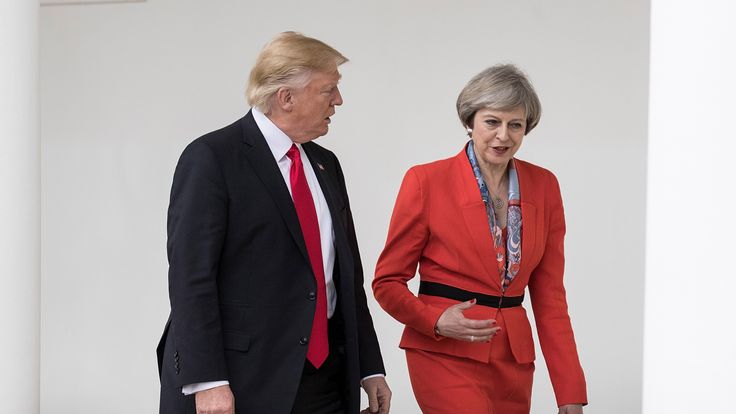 "The prime minister said the US, UK and EU are close national security allies and we recognise the importance of the values of open and fair trade across the world.
"The prime minister also underlined the need to safeguard jobs that would potentially be affected by the decision."
Mr Trump's border policy has also caught Mrs May's eye, and she told the House of Commons she found the pictures of children in cages "deeply disturbing".
They might also discuss the current situation in North Korea.
Who invited him?
The president was invited by Mrs May when she went to the White House in January 2017.
What does the president think of Britain?
Mr Trump has been criticised for his comments about life in Britain, particularly when he said NHS hospitals were "like war zones" because of knife crime.
He has also distorted crime statistics, as in this tweet when he said: "Just out report: 'United Kingdom crime rises 13 per cent annually amid spread of Radical Islamic terror.'"
The statistics were across England and Wales and were attributed to sex and knife crimes.
He also once gave Mrs May advice on Twitter, suggesting: "Focus on the destructive Radical Islamic Terrorism that is taking place within the United Kingdom. We are doing just fine!"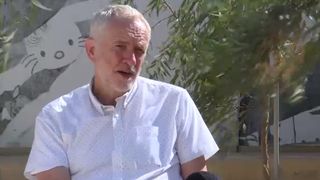 What is the response from British people?
A petition against his visit was signed by nearly 1.9 million people, so had to be debated in Parliament.
A counter-petition supporting his visit was signed by 317,000 people.
The official statement read: "HM Government believes the President of the United States should be extended the full courtesy of a State Visit. We look forward to welcoming President Trump once dates and arrangements are finalised."
Thousands of people marched against Mr Trump before – at the Women's Marches which took place around the world after he was inaugurated in January 2017.
On 13 July, another Women's March will begin at 11am from central London and make its way to Parliament Square for a rally from 2-4pm.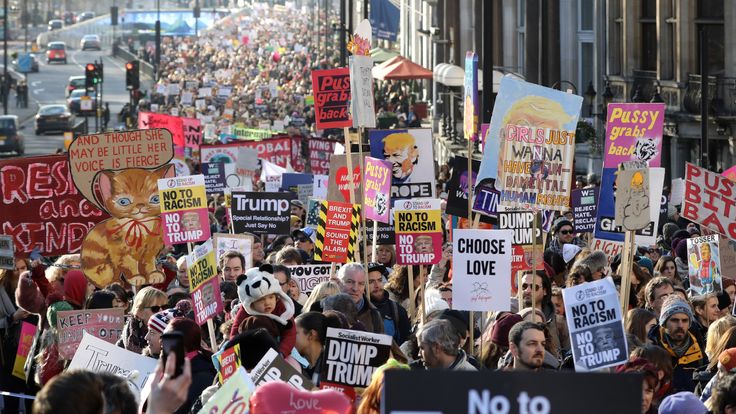 Another march will also set off at 2pm from the BBC building on Portland Place and culminate in Trafalgar Square at 5pm.
It's been organised by the Stop Trump group and Guardian columnist Owen Jones, with more than 200,000 people signalling their intent to attend on Facebook.
According to The Sun, Mrs May has been concerned about the protests and has warned Mr Trump to avoid central London.
Similar protests are planned around the country on 12, 13 and 14 July, under the banner of a "carnival of resistance". There are events in Bristol, Edinburgh, Glasgow and Leeds.
Mayor of London Sadiq Khan previously said Mr Trump would not be welcome in London because of his "divisive agenda".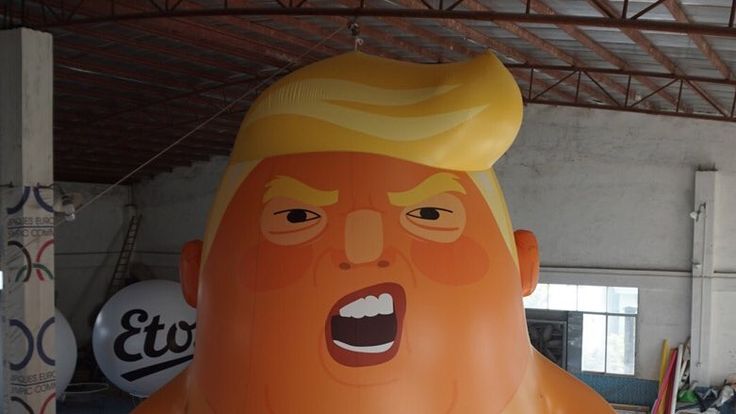 Leo Murray has planned his own protest in the form of a blimp, shaped like Mr Trump imagined as a baby.
He crowdfunded to get the blimp off the ground and has been granted permission from City Hall to fly it near the Houses of Parliament.
YouGov have conducted several polls questioning whether Mr Trump should be allowed a state visit. In January 2017, 50% of those polled thought it should go ahead.
More from UK
This dropped to about 30% in December but was back up to 45%, a majority compared with 39% who thought it should be cancelled, in January 2018.
Boris Johnson has been supportive of the visit, tweeting: "FANTASTIC news that President @realdonaldtrump will at last come to Britain on 13 July. Looking forward to seeing our closest ally and friend on the GREATest visit ever."