Referred to in a KCNA report as the "respected First Lady," paired with an honorific reserved for respected members of society, the title is a step up from the usual "comrade" that she had previously been afforded. North Korea watcher Peter Ward, a writer for NK News, a blog which follows North Korean political developments, posted on Twitter that the change in title was a sign that Ri "is getting her own personality cult."Others agree that the move is significant. "In North Korea, nothing is accidental. Each move is choreographed for a reason," Troy Stangarone, Senior Director, Korea Economic Institute, told CNN. "The elevation of Ri's status … help(s) to strengthen the Kim family's status in North Korea, but also changes the international perception of the regime."
Rare terminology
The wives of North Korea's two previous leaders, Kim's father and grandfather, have generally not been given the same status as that accorded to other leaders' spouses around the world, Stangarone said. "The title of 'First Lady' was last used by North Korea in the 1970s for Kim Il Sung's wife Kim Song Ae. "Since then the term "comrade" was used to signify the wife of either Kim Il Sung or Kim Jong Il." Ri's new title places her "more within Western norms and helps remove some of the old communist vestiges of the past," Stangarone said.He added that Kim's decision to send his sister, Kim Yo Jong, to the Winter Olympics in Pyeongchang, South Korea in February was another sign that the ruling family is intent on changing the optics around its power structure.
Womens' roles — and diplomacy — on the rise
The two moves indicate women are playing a more important role in the country's diplomacy, says Christine Ahn, International Coordinator of nonprofit Women Cross DMZ, which advocates for peace on the Korean peninsula."We at Women Cross DMZ feel very heartened and hopeful about the diplomatic and peace gestures coming from all sides — Seoul, Pyongyang, Washington and Beijing — and welcome the participation of women, including from the DPRK, at all levels," she told CNN by email. "We have been advocating for women's meaningful inclusion at all levels of the peacebuilding process, and Madame Ri Sol Ju's cultural exchange (with) China contributes towards that end." In writing up Ri's Saturday visit to a performance by the visiting National Ballet of China, the state media outlet was reporting on an event that Ri attended without being accompanied by her husband, something that is without precedent. During the visit she appears to have met the head of China's Communist Party's International Department.Kim also visited the Chinese troupe on Monday — the second international group of musicians to visit Pyongyang in recent months, following a South Korean delegation of pop stars earlier in April.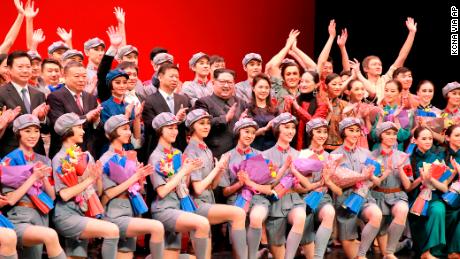 Diplomatic thaw
The apparent shift in policy, in which other members of the ruling family are taking a more visible role, comes as Kim appears to be extending potential olive branches to both foes and allies. In March Kim traveled to Beijing for his first — and so far only — meeting with a foreign head of state. He will meet South Korean leader Moon Jae-in in a historic summit later this month. The meetings come after months of thaws, beginning with North Korean participation in the Winter Games, an evolution on various antagonistic policies from Pyongyang including nuclear weapons tests, and culminating in Kim reportedly inviting US President Donald Trump to meet face to face. "All of these steps are about reshaping the image of the regime," Stangarone said.
Original Article