By Ananya Mandal, MBBSJanuary 30, 2018
In a breakthrough study, scientists at the Rockefeller University have observed the effects of Huntington's disease in neurons as early as conception. The study was recently published in the journal Development.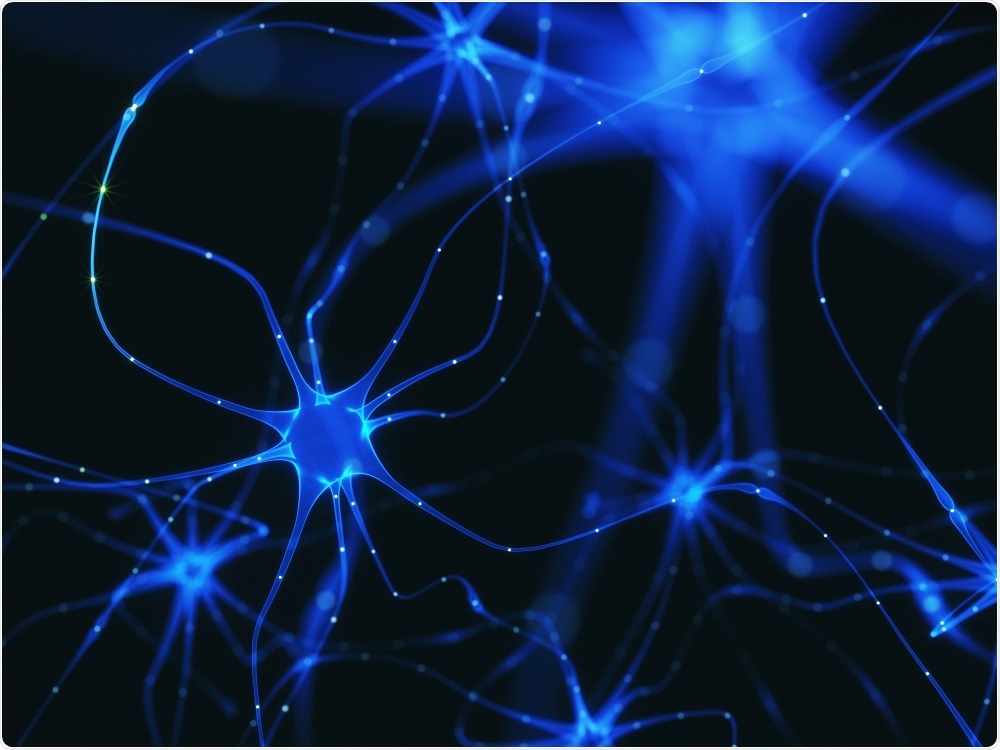 Credit: ktsdesign/Shutterstock.com
Huntington's disease is an incurable neurodegenerative condition that affects around 1 in 10000 Americans. It affects muscle coordination and cognitive function.
Symptoms of the disease typically appear around middle age, when many of the neurons in the brain have been lost. Clinical features include severe dementia and muscle coordination problems.
Dr Ali Brivanlou and his team used embryonic stem cells to model this complex genetic disease, which they then used to observe changes in embryos with Huntington's disease as early as conception.
They observed early abnormalities in the structure of neurons, and the presence of large masses within cells that had not previously been reported. This is despite the effects of the disease not being seen until the person has reached middle age.
Our research supports the idea that the first domino is pushed soon after fertilization, and that has consequences down the line. The final domino falls decades after birth, when the symptoms are observable."

Dr Ali Brivanlou, Lead Author and Professor at the Rockefeller University.
It is thought that these in-depth findings could be used to develop treatments for this currently incurable disease. To date, because of the unavailability of the genetic models in humans and human embryonic cells, animal models were the only site on which research could be carried out. But this was highly inaccurate.
Huntington's disease is inherited in an autosomal dominant fashion, which means the disease will develop if a person inherits the mutation on either copy of their huntingtin gene (HTT).
Related Stories
Any person born to a parent affected by the condition therefore has a 50% chance of inheriting the disease.
In the extremely unlikely scenario that both parents carry an HTT mutation, this risk is increased to 75% and if either parent carries two mutated HTT copies, the risk of inheritance is 100%.
Prior to the current study, scientists did not know the purpose of the HTT gene normally and could not accurately predict the cellular effects of the mutations.
Brivanlou and colleagues Albert Ruzo and Gist Croft used the gene editing technology CRISPR to create human embryonic stem cell lines.
The cells were identical to healthy stem cells, except for the DNA repeats that were seen at the ends of their HTT genes.
"We started seeing things that were completely unexpected," explained Brivanlou. "In cell lines with mutated HTT, we saw giant cells. It looked like a jungle of disorganization."
Each cell is supposed to contain a single nucleus he explained. But these giant cells contain "up to 12 nuclei". This is accompanied by an increase in the formation of neurons.
"Huntington's may not be just a neurodegenerative disease, but also a neurodevelopmental disease," Brivanlou added.
Brivanlou explained that before this research, it was believed that the brain damage seen in Huntington's disease is caused by an excess of HTT protein.
When in fact, the current study showed that the problems arise due to lack of HTT protein action.
It is hoped that understanding the role of this protein could help scientists to develop drugs and identify new targets to treat the disease. This model could also be used to study other neurodegenerative diseases and conditions, add the researchers.
https://www.eurekalert.org/pub_releases/2018-01/ru-ute012618.php
Let's