But it's not as simple as showing up and spraying water. "We don't just put blue stuff on the red stuff," said Scott McLean, spokesman for the California Department of Fire and Forestry Protection, known as Cal Fire. Wildfires constantly evolve based on weather conditions. That forces firefighters and their incident commanders to constantly re-evaluate their approaches and strategies, including where to position people, equipment and logistical support. Here's a look at the tactics and tools used by the men and women battling the flames:
Firefighters take to the ground …
Ground crews maintain the front lines, supported by fire engines carrying hundreds of gallons of water, said Mike Lopez, a 20-year veteran firefighter who is now president of Cal Fire's firefighter union.These crews are central to the overarching mission: putting out the fire. Then, there's a simultaneous effort to contain the fire and keep it from spreading. That task falls to hand crews.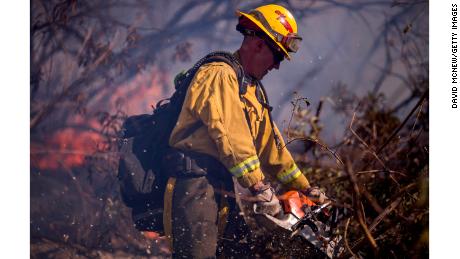 These firefighters use chainsaws and Pulaskis — axes used to cut vegetation — to clear brush that could fuel the fire, McLean said. The result is what's known as a "fire line." The barrier separates the wildfires and the land that, so far, has been spared, and it slows down the fire's growth.Hand crews also use bulldozers to do the job on a larger scale. "But a bulldozer can't go places that a hand crew can go," Lopez said. "They work in tandem."
… and to the air.
Meantime, air crews take on the fire from the sky.CalFire strategically places aircraft throughout California to ensure a 20-minute response time to any wildfire incident, McLean said.Among the fleet are helicopters and air tankers — huge planes fitted with tanks — that can drop water or fire retardant on blazes, he said.
Some helicopters get equipped with big buckets to douse fires, Lopez said. They can carry 300 to 800 gallons of water from nearby sources, including lakes, pools, ponds or oceans.READ MORE: Wildfires Fast FactsThe tactic might seem fail-proof. It's not. "People think that air tankers and helicopters completely extinguish fires," Lopez said. "They don't. They slow the progression of the fire for the ground resources to put the fire out." So, the cooperation of firefighters on the ground and those in the sky is critical. "It's an orchestra," McLean said. "All those components come together."
They try to stay a step ahead of the fire …
Weather forecasting also plays a central role, Lopez said. "We watch the weather religiously … so we can adapt and plan accordingly," McLean told CNN, adding that each firefighter must be aware of weather conditions.Forecasters look at temperature, relative humidity and wind to assess the possibility or likely intensity of a fire, said Mike Flannigan, a professor of wildland fire at the University of Alberta.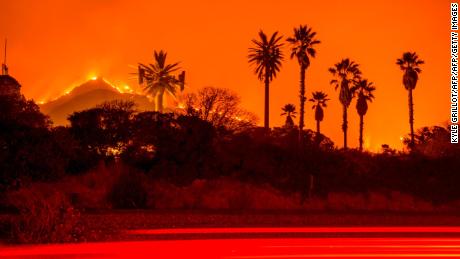 "Wind is the most critical factor once the fire is up and running," he said. "How strong it is, and if it's shifting." Using forecasts and fire growth models, fire management agencies move crews and resources to where they expect the fire to go. Based on the models, officials sometimes opt to let the blazes burn, sparing resources and firefighters and letting fires "play a more natural role" in the nature, Flannigan said.READ MORE: How wildfires return from the deadFire incident commanders get frequent updates from meteorologists and other experts, then share intel with personnel in the field, Lopez said, "so everyone's on the same page."
… and stay long after it goes out.
And the job's not over when the fire's out.As soon as a fire has been extinguished and firefighters leave, damage assessment teams take stock of the devastation "and document what structures were lost," McLean said. These teams relay information about how many homes and buildings were destroyed. Behind those teams come other experts who assess and repair damage the fire may have caused to the watershed, which could lead to long-term erosion problems, McLean said.READ MORE: 6 important things to know about wildfiresWith wildfire seasons predicted to get longer, the strategies — from the front lines to the repair work — undoubtedly will be required more often. And incident commanders, firefighters and others will be there, McLean said, "however long it takes to get done."
Original Article
The post It's not just spraying water: How the pros fight wildfires appeared first on News Wire Now.