A US Navy aircraft carrying 11 crew and passengers has crashed into the Pacific Ocean, the US 7th Fleet said.
A search and rescue operation has found eight of those who were on board the C-2 "Greyhound" transport aircraft, "in good condition" the US Navy said.
The US Navy confirmed it had taken the eight to the carrier for medical evaluation and was continuing to search for the other three.
The aircraft had been en route toward the aircraft carrier USS Ronald Reagan and the cause of the crash was unclear, the US Navy said in an earlier statement.
"A United States Navy aircraft carrying 11 crew and passengers crashed into the ocean southeast of Okinawa," it said.
"Personnel recovery is under way and their condition will be evaluated by USS Ronald Reagan medical staff."
The USS Ronald Reagan is now conducting the search and rescue operations.
In Tokyo, Defence Minister Itsunori Onodera said a joint operation had been launched.
"From the US military, we have received an initial report that engine trouble might be the cause," he said.
The aircraft was operating in the Philippine Sea when the crash happened at 2.45pm local time (approximately 5.45am GMT).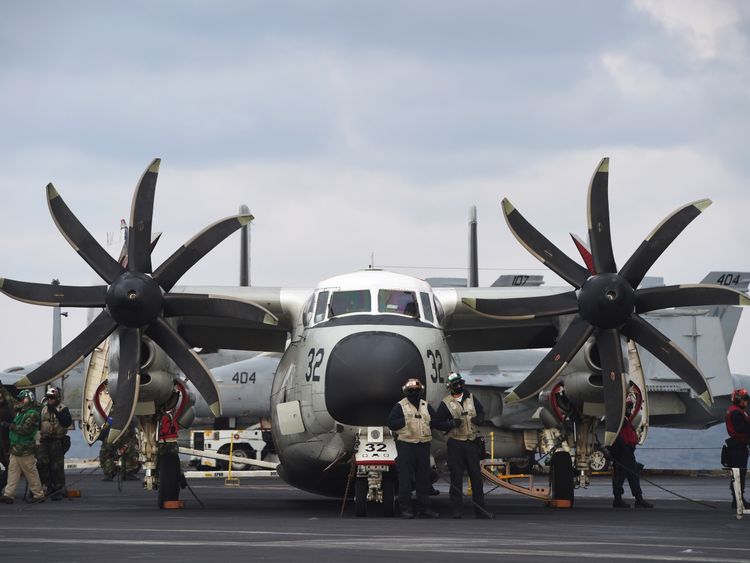 Names are being withheld before next of kin can be informed.
Chief of Naval Operations John Richardson said: "Our sailors are in my thoughts and prayers as we perform search and rescue operations for a downed aircraft in the Philippine Sea.
"Eight of 11 sailors are safe and sound in USS Ronald Reagan. We continue to search for three."
The US Navy 7th fleet has 60-70 ships, 200-300 aircraft and 40,000 Navy and Marine Corps personnel assigned to it at any given time, according to its Twitter page.
The C-2 Greyhound aircraft is a twin-engine, high-wing cargo aircraft, with the primary job of carrying supplies and passengers to and from the US aircraft carriers.
In August, the USS John S McCain crashed with a tanker off Singapore, killing 10 sailors and injuring five others.