US District Judge Janet Neff essentially imposed a life prison term on the 54-year-old physician, sentencing Nassar to 20 years for each of three counts, which are to be served consecutively, according to the docket. But the child porn charges are not the most serious accusations against Nassar. In November, he pleaded guilty to seven counts of first-degree criminal sexual conduct and admitted to using his position to sexually abuse underage girls. Three of those charges related to victims who were under age 13. He will be sentenced on those state charges in January.More than 140 women and girls have accused him of sexual misconduct, including several American gymnasts on the "Fierce Five" team that won gold at the 2012 Olympics.Nassar pleaded guilty in July to receiving child pornography in 2004, possessing child pornography from 2003 to 2016 and destroying and concealing evidence in 2016 as he was under investigation, according to the US attorney's office for the Western District of Michigan.Rachael Denhollander, a former Michigan gymnast who filed the first criminal complaint against Nassar, said after the sentencing that the case represented failures on many levels, from university athletics programs to sports governing bodies. "It is victim blaming and victim blaming at its finest," Denhollander told reporters. "And that should terrify us. Because ladies and gentlemen, this is the culture of abuse. This is what keeps victims silent. This is what keeps predators in power. And this is what's endangering the next generation of girls." John Manly, an attorney representing more than 100 victims, said he was proud of McKayla Maroney and other victims for overcoming their fear and facing their perpetrator in court. "The system failed these women for 20 years," he said. Andrew Birge, acting US Attorney for the Western District of Michigan, called Nassar an "insidious, hands-on predator" who "treated his license to practice medicine as a license to sexually molest.""He's getting a natural life sentence," he said. "He is never getting out of prison. He should never have another opportunity to pose a threat to another child."In a sentencing memorandum last week, prosecutors asked the judge to consider the "full scope" of Nassar's criminal behavior."(T)here is a close link between the defendant's child pornography activities and his prolific molestation of children," prosecutors wrote. "The seriousness of his conduct, and the devastating impact it has had on the lives of so many, cannot be overstated."Nassar was the team doctor for USA Gymnastics through four Olympic Games, and he worked at Michigan State University from 1997 to 2016 as an associate professor and as the gymnastics and women's crew team physician.
'American tragedy'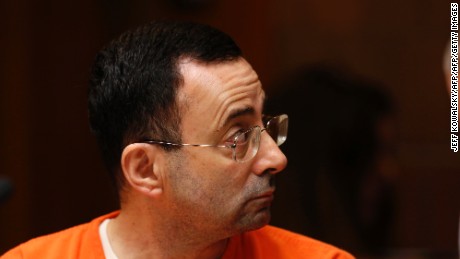 In the federal case, prosecutors say Nassar downloaded images and videos of child pornography in 2004 and kept thousands of images and videos — some of which showed children under 12 — on his hard drive for years. He then paid $49 to have his laptop wiped of the child pornography and threw away hard drives that contained child pornography, according to court documents.In return for the plea deal, federal prosecutors agreed not to prosecute Nassar for sexual exploitation and attempted sexual exploitation of children. Those accusations related to conduct with two minors in Nassar's swimming pool in the summer of 2015 and for "illicit sexual conduct" with two other minor children during interstate and international travel, according to the plea agreement obtained by CNN.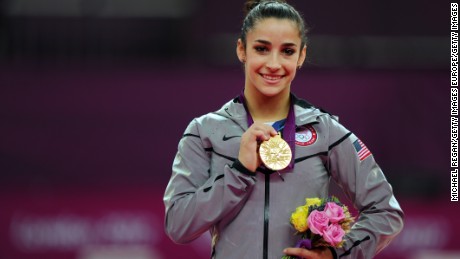 Over the past several months, gold medal winners Gabby Douglas, Aly Raisman and Maroney have each spoken out about Nassar's abuse. In a November interview with "60 Minutes," Raisman specifically took aim at USA Gymnastics for allowing the abuse to go on for two decades."Why are we looking at why didn't the girls speak up?" Raisman said. "Why not look at what about the culture? What did USA Gymnastics do, and Larry Nassar do, to manipulate these girls so much that they are so afraid to speak up?"After his guilty plea to criminal sexual conduct charges, attorneys representing more than 100 victims said USA Gymnastics, the US Olympic Committee and Michigan State University all "miserably failed" to protect those under their care."Make no mistake: This is an American tragedy," Manly said.USA Gymnastics instituted dozens of changes in the wake of the scandal that the group says will help it prevent and respond to any future cases of abuse.In April, the Michigan Department of Licensing and Regulatory Affairs revoked Nassar's medical license for a minimum of three years, according to Jason Moon, communications director for the agency.
CNN's Elizabeth Joseph and Tony Marco contributed to this report.
Original Article
The post Ex-gymnastics doctor sentenced to 60 years on child porn charges appeared first on News Wire Now.