The 50-something cook and cleaner is one of thousands of people critics say have been forced from their homes in the past two weeksas part of a drive by the municipal government to shut down what it claims is unsafe and overcrowded housing.Now homeless, she's selling all her possessions and preparing to return to her village — hundreds of miles away in Henan province in central China."Our apartment was demolished and new housing is too expensive to afford. We're not making enough money," she says, with her shoes, cups, pans, pots, a space heater and tools spread out in front of her on a cloth on the street. "I have no choice but to go home. I thought I could make more money in Beijing than by farming at home. But now, it's time to go home."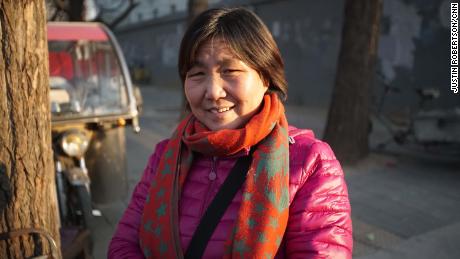 Zhao says government workers destroyed her home on November 26, as a part of a 40-day operation that comes in the wake of a deadly fire in Daxing, an industrial neighborhood in south Beijing, in which 19 people died. The town where the fire took place, is home to 175,000 residents, among which 120,000 are migrants, according to the town's website. Both residential and commercial properties –factories and warehouses –have been earmarked fordemolition, and the government has acted with breathtaking speed.Zhao says residents in her building of several dozen small apartments were given just over a day's notice to move out. A small warning was posted at the gate on November 25, reading: "Tenants: Please clean out before November 26, 2017, at 5 p.m. or there will be consequences."As advertised, government officials showed up the next day, she says, wielding sledgehammers. Doors were pulled off hinges. Ceilings were torn down. The power was shut off. "The demolition crew was savage," said the building's landlord, who asked to be identified only by his surname, Yang."The glass shards from the demolition of the ceilings fell on a baby and hurt its arm when a family was moving out. My heart sank when I heard the baby cry," Yang said. Anyone who hadn't cleared out by the tight deadline had their belongings either destroyed or tossed into the street. The building was made uninhabitable in a matter of hours, forcing people from their homes in Beijing's frigid winter temperatures. Yang said he was licensed to rent out the building and had contacted local authorities to see if he could rectify any risks. He believes his building was targeted only because migrants lived there. CNN cannot verify his claims. What happened to Zhao does not appear to be unique. There's no hard numbers on the number of people affected butBeijing officials in an interview by state news agency Xinhua said they found 25,395 sites with some sort of safety risk one week after the safety checks began. Videos on Chinese social media show ruthless evictions taking place across the city.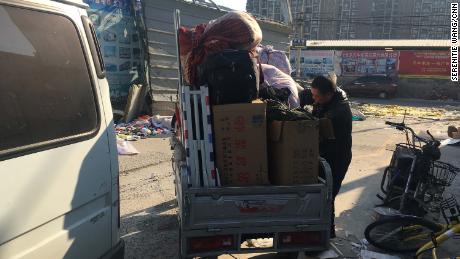 Harsh criticism
Critics have accused the government of using the Daxing fire, which broke out in the basement of a residential and manufacturing building, as an excuse to tackle a long-standing headache for the government — Beijing's huge and growing population.In a rare move, more than 100 prominent Chinese intellectuals circulated an open letter online, criticizing the forced evictions. The group says that hundreds of thousands of migrants could be affected by the crackdown — Beijing is home to 3 million migrants. "In our view, this is a vicious incident that breaks the law and tramples on human rights and should be resolutely stopped and rectified," the group wrote.Authorities have publicly said they plan to cut the population in downtown Beijing by 15% from 2014 levels — about 2 million people — as part of efforts to cap Beijing's population at 23 million by 2020. The easiest way to meet those goals, critics say, is by targeting the poorest of the poor — migrant workers with little money and nowhere else to go, except back to the rural poverty of their home provinces.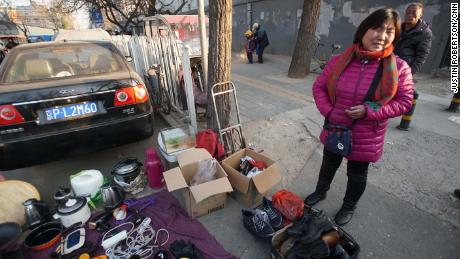 The municipal government has denied that the evictions are targeting migrant workers, or that they're part of the wider plan to reduce Beijing's population.Beijing Communist Party Chief Cai Qi has said that "ongoing safety checks" should be "human-centered," and the local government has held job fairs for those who've lost their jobs where factories and warehouses have been shut down. The Beijing government said that more than 1,800 jobs had been offered to those displaced; however, that falls far short of the total number of people who have been evicted,according to critics.The government says it's also offering assistance for those workers who wish to leave Beijing and return to their hometown, and building subsidized rental housing — though it gave few details on those plans. The Beijing Work Safety Commission that initiated the cleanup drive didn't respond to a request for comment.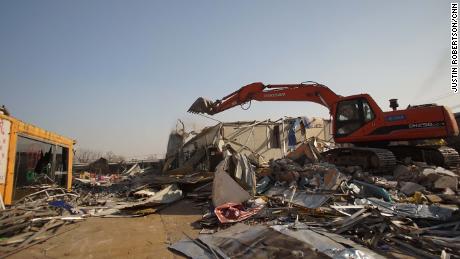 In some of the first government documents on the so-called cleanup, officials referred to targeting areas with a "low-end population."The term sparked backlash among social media users, some of whom are now using it as an irreverent badge of honor."What qualifies as high-end then? A great number of people have contributed their youth and dreams to the great city of Beijing. They should be remembered and respected! But not to be left homeless!" one user wrote on Weibo, China's version of Twitter. However, in response to the growing outrage, China's Internet censorship machine ramped up. Posts including the keywords "low-end population" have been censored on social networks WeChat and Weibo, and the Beijing government has denied using this term and appears to have stopped using it in public documents.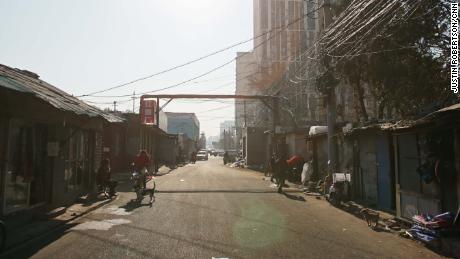 Middle class sympathy
The evictions appear to have awoken some members of China's ever-expanding middle class to the plight of the average migrant worker — the people who not only helped build Beijing, but make sure that its day-to-day needs are met.Some complain about increased delays in package and food delivery services — some 90% of Beijing's famed delivery drivers, who navigate the city on scooters, are migrant workers, according to Zhao Xiaomin, an analyst with Guansho Consulting.Miao Ting, 23, a white-collar worker at an automobile company in Beijing, said that online vendors had refused to ship her orders to Beijing unless she paid double for premium delivery. She also said she'd noticed fewer tuk tuk drivers and a small grocery store in her neighborhood was shut down. "The city is not inhabitable anymore if it continues," posted another Weibo user, grumbling about the delivery disruptions.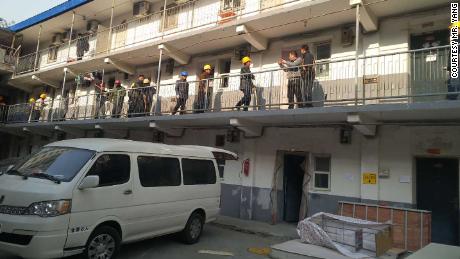 For the migrant workers CNN spoke to, the government's assurances fall on deaf ears and the middle-class sympathy is cold comfort.Li, who has owned a small hardware store in south Beijing for 13 years, said the Daxing fire is clearly an excuse to force out people like him."The government welcomed migrant workers to come and contribute to building the city 10 years go. But now they want us to leave when they don't need us anymore," said Li. "People are left no leeway at all. Why are they in such a rush?"
Original Article
The post Beijing forces thousands from their homes appeared first on News Wire Now.