Virginia Padilla said her 7-year-old horse "Ruben" was burned over 65% of his body."It's awful. There's no words to explain it. I'm very fortunate he's alive because, I mean so many people have lost their horses," Padilla told CNN affiliate KCAL.As flames engulfed her Sylmar barn earlier this week, she tried to save more than 60 animals. When animal control officers arrived to help her, they saw and heard "horses in distress" but were only able to evacuate some of animals before the barn's roof collapsed.Twenty-nine horses died during the Creek Fire and those who were rescued sustained severe burns and were treated for smoke inhalation, dehydration and stress. "Sadly, many horses locked in their stalls at the barn did not survive the fire," the Los Angeles Department of Animal Control and Care said. A horse had to be euthanized and another was so injured that it will be receiving veterinary treatment for months.Padilla is among the many owners and neighbors who rushed to escape the flames intact along with their animals.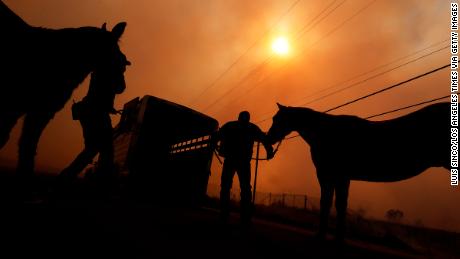 In Bonsall, ranch hands attempted to rescue about 500 horses from the San Luis Rey Training Center when the Lilac Fire began about 45 miles north of San Diego, CNN affiliate KGTV reported.Shannon Clark, who owns an equine apparel company, said she drove to the area of the Lilac Fire to help evacuate animals."Horse people are a community," Clark told CNN affiliate KSWB. "Leaving one behind is like leaving a child behind … you just can't do it. Even if it's a horse running down the road you grab it."Authorities said hundreds of pets, donkeys and even llamas have filled college facilities, county fairgrounds and sports facilities after they were turned into temporary animal shelters.Police responding to the Creek and Skirball fires in Los Angeles helped pets in danger. The Los Angeles Police Department tweeted a photo of one of its officers carrying a cat away from the flames. "For some it might just be a cat. But to others it's a friend, a loved one, a companion," the Los Angeles Police Department tweeted.
CNN's Dave Alsup contributed to this report.
Original Article
The post Horses killed as owners rush to beat flames appeared first on News Wire Now.